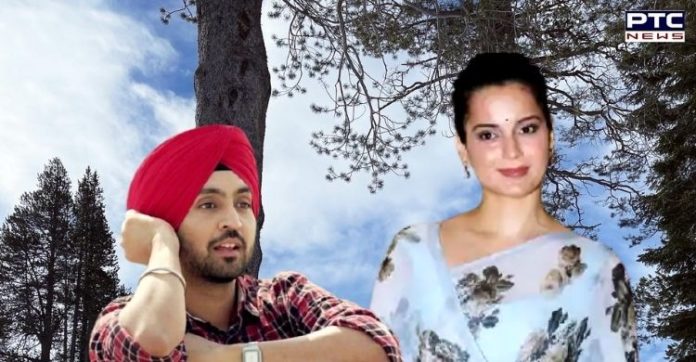 Hours after Kangana Ranaut mocked Diljit Dosanjh for holidaying abroad amid farmers protest against farm laws 2020, Diljit took to Twitter and gave a befitting reply to Kangana.

Diljit Dosanjh had shared a tweet with four images of him, in a snowy environment. To this, Kangana replied: "Wah brother!! Desh mein aag lagake kisanon ko sadak le baitha ke local karantikaris videsh mein thand ka maza le rahe hain, wah!!! Isko kehte hain local kranti… (Wow, brother. After instigating farmers and making them sit on the streets, the 'local revolutionary' is enjoying winter holidays abroad. This is a true local revolution)"
Also Read | 'Speaking in Hindi so people don't have to Google it': Diljit Dosanjh at Singhu border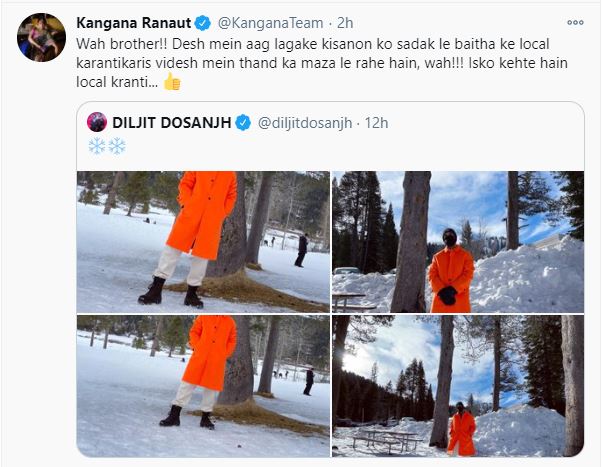 Giving a befitting reply to this, Diljit Dosanjh wrote: "Enu Mai PR Lai Na Rakh Lava ? Dimagh Chon Tan Jaanda Ni Mai edey."

Afterwards, Kangana Ranaut wrote a tweet in Hindi: "वक्त बताएगा दोस्त कौन किसानों के हक़ के लिए लड़ा और कौन उनके ख़िलाफ़ … सौ झूठ एक सच को नहीं छुपा सकते, और जिसको सच्चे दिल से चाहो वो तुम्हें कभी नफ़रत नहीं कर सकता, तुझे क्या लगता है तेरे कहने से पंजाब मेरे ख़िलाफ़ हो जाएगा? हा हा इतने बड़े बड़े सपने मत देख तेरा दिल टूटेगा. (Friend, time will tell, who fought for the rights of farmers and who were against them. Hundred lies cannot hide one truth, and if you like someone from heart, can never hate you. What do you think, If you'll say, then Punjab will hate me? Haha don't dream otherwise, your heart will break)"
Also Read | 'Kisan ki mange puri karo': Diljit Dosanjh spotted at farmers protest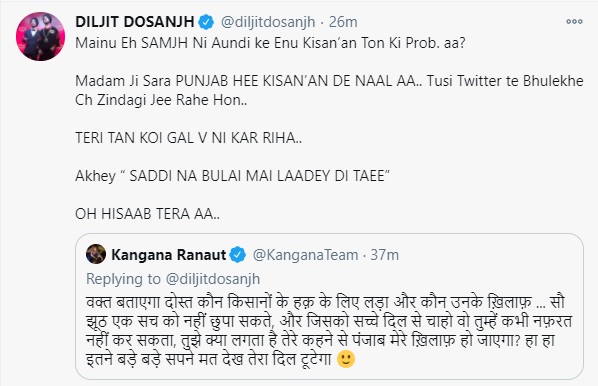 To this, Diljit replied: "Mainu Eh SAMJH Ni Aundi ke Enu Kisan'an Ton Ki Prob. aa? Madam Ji Sara PUNJAB HEE KISAN'AN DE NAAL AA.. Tusi Twitter te Bhulekhe Ch Zindagi Jee Rahe Hon.. TERI TAN KOI GAL V NI KAR RIHA.. Akhey " SADDI NA BULAI MAI LAADEY DI TAEE" OH HISAAB TERA AA..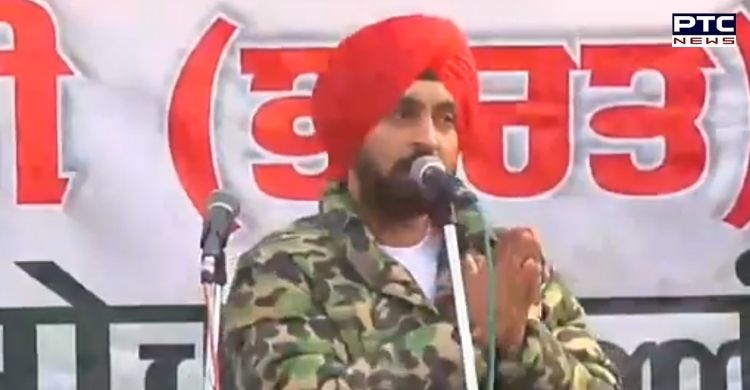 Diljit Dosanjh had earlier visited the Singhu border to join farmers protest and even donated a huge amount for them. The farmers have been camping at Delhi borders demanding to repeal the three farm laws 2020 that were passed by the Parliament during the monsoon session.
-PTC News