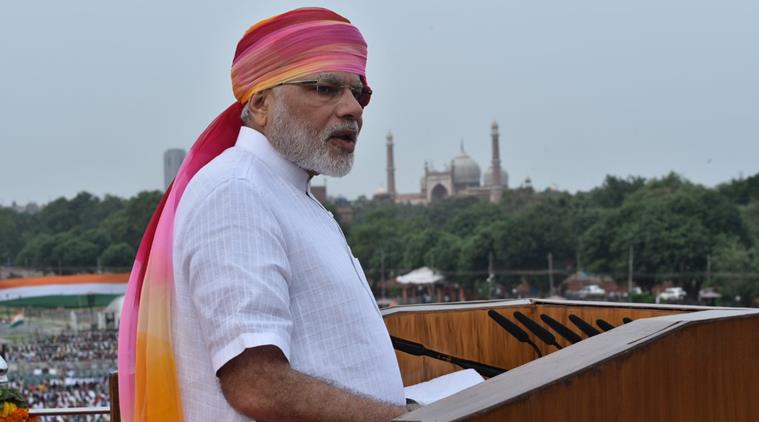 71st Independence Day: Drop this 'chalta hai' attitude. We have to think of 'badal sakta hai' to change the nation: PM Modi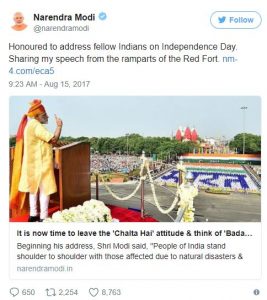 Prime Minister Narendra Modi addressed the nation from the ramparts of Red Fort on the 71st Independence Day on Tuesday. Anti-aircraft and anti-drone guns were deployed in and around Red Fort. An additional 500 closed-circuit television and high-resolution cameras were placed in and around Red Fort.
Congress president Sonia Gandhi unfurled the tricolour at the AICC headquarters on Akbar Road in New Delhi.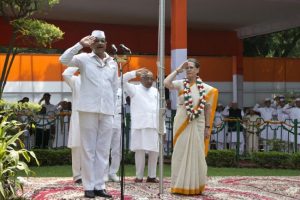 In her Independence Day message, Gandhi stressed the need for every Indian to unite and fight against separatism, terrorism and all such forces that divide and spread hatred in society.
Prime minister Narendra Modi on Tuesday launched a website to honour all the gallantry award winners since Independence.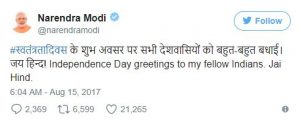 Announcing the launch of the website http://gallantryawards.gov.in in a series of tweets, Modi said "the portal will preserve and tell the stories of our bravest men and women, civilians as well as armed forces personnel".
Top notes from the Prime Mininster's speech:
*We are devoting significant attention to eastern India- Bihar, Assam, West Bengal, Odisha, Northeast. These parts have to grow further: PM
*Violence in the name of 'astha' is not something to be happy about, it will not be accepted in our country
*January 1, 2018 will not be an ordinary day -- those born in this century will start turning 18. They are Bhagya Vidhatas of our nation
*We have to drop this 'chalta hai' attitude. We have to think of 'badal sakta hai'- this attitude will help us as a nation
*This is a special year- 75th anniversary of Quit India, 100th anniversary of Champaran Satyagraha, 125th anniversary of Ganesh Utsav
*People of India stand shoulder to shoulder with those affected due to natural disasters and the tragedy in Gorakhpur
*No bullets or abuses can solve the Kashmir problem, only hugs can do it
*Casteism and communalism will not help us
*There is no question of being soft on terrorism or terrorists
*India's stature in the world is rising. The world is with us in fighting the menace of terror. I thank all nations helping us doing so
*GST has shown the spirit of cooperative federalism. The nation has come together to support GST & the role of technology has also helped
*Those who have looted the nation and looted the poor are not able to sleep peacefully today
*We remember the great women and men who worked hard for India's freedom
Search engine Google displayed an artistic doodle which includes a motif of Indian Parliament, a symbolic wheel for the Ashok Chakra and India's national bird peacock, all submerged in shades of saffron, green, white and blue.
—PTC News