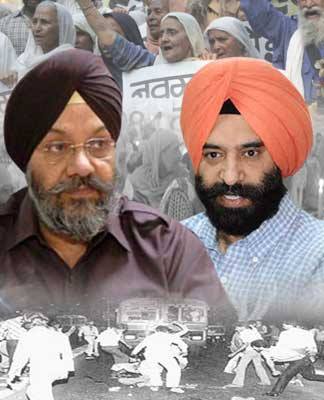 DSGMC to participate in Nov 3rd prog seeking justice for 1984 Sikh genocide victims
The Delhi Sikh Gurudwara Management Committee (DSGMC) will participate in November 3rd programme being held in Delhi to seek justice for the victims of 1984 sikh genocide. This was disclosed by the DSGMC General Secretary Mr Manjinder Singh Sirsa.
In a statement released here today, Mr. Sirsa disclosed the Shiromani Akali Dal is organizing a dharna in National Capital at Jantar Mantar on November 3rd and the DSGMC will participate in this programme wholeheartedly. He said that Sikhs residing in Delhi will carry out a protest march from Gurudwara Bangla Sahib to Jantar Mantar and participate in dharna. He said that the DSGMC will also participate in Ardass Diwas Samagams which will be held on November 1st at all the five takht sahibs in different states.
Also Read: 1984 Sikh Genocide: Delhi HC to hear victims' appeals against Sajjan Kumar
Mr. Sirsa said that it is most unfortunate to see that successive governments at the Centre including the present one have miserable failed to deliver justice to the Sikhs even after lapse of 34 years of the worst ever carnage  of the world. He said that this genocide which was a pre planned work of the Congress has no parallel in the world and it was required that the guilty should have been punished in instant hearing of the cases but in reality these cases are yet to see the light of the day.
The DSGMC General Secretary said that even the judiciary is taking cases related with this genocide casually and cases are lingered on regularly by posting the matters repeatedly. He said that in courts there is no satisfying answer to the questions by the law enforcing agencies whereas in reality public knows the answer of each and every question about the genocide. He said that worst is the scenario where the guilty of this genocide including Jagdish Tytler and Sajjan Kumar are given police protection instead of sending them to jail for their crime.
Also Read: Sikh Riots 1984: Sirsa welcomes decision to constitute fresh SIT to probe 186 cases
He said that now the SAD led by S. Sukhbir Singh Badal and under the supervision of S. Parkash Singh Badal will take this battle to its logical conclusion and ensure that guilty are put behind the bars as soon as possible. He said that the SAD will not compromise on this issue with anyone and ensuring justice for the victims is its sole aim in which the DSGMC will provide all the required support.
-PTC NEWS