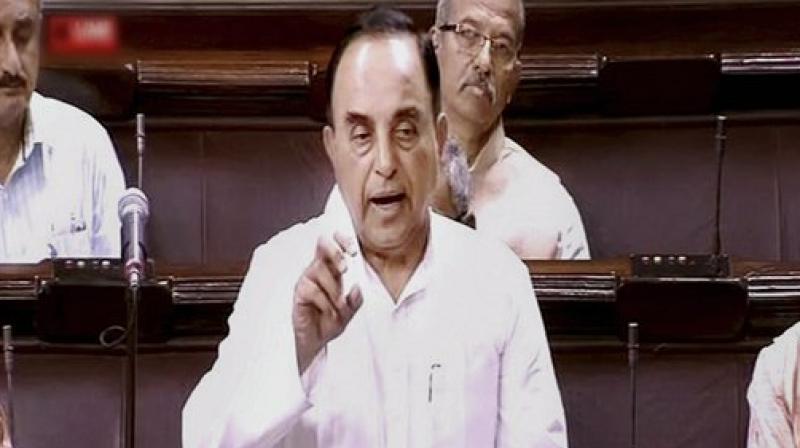 New Delhi: Following the cancellation of the by-polls in Chennai's R.K. Nagar constituency,Bhartiya Janata Party(BJP) leader Subramanian Swamy on Tuesday asserted that the Election Commission (EC) of India should also cancel elections in Kashmir for at least two years.
"With the ruckus that is happening in Kashmir,Election Commission (EC) of India should cancel the elections for at least two years so that peace prevails and violence issues are sorted out," Swamy told.
Swamy further said the government should send 10,000 soldiers to reside in Kashmir so that law and order is maintained in the state.
"To maintain peace and serenity in Kashmir the government should send 10,000 soldiers with lots of arms, ammunitions and money, so that they can reside and maintain law and order in the state," Swamy said.
Srinagar reported a poor 6.5 percent voter turnout during the by-polls for Srinagar Lok Sabha constituency as intense clashes were witnessed between the youth and security forces.
Violence was reported from Budgam area in central Kashmir, which is a part of the three districts - Srinagar, Budgam and Ganderbal- voting in the elections.
Reports suggest that polling stations were attacked and the EVMs were broken at many places. Severe clashes were reported from Delwan and Chadoora areas where two people lost their lives.
Locals said a group of boys tried to attack a polling station, but the security forces opened fire resulting in the two casualties. Three others were also injured in the incident.
A similar incident was reported in Beerwah area where another person lost his life during the clashes. The violence affected the overall voting percentage.
Earlier this week, at least three Lashkar-e-Taiba terrorists were killed in an encounter in Arwani area of Jammu and Kashmir's Anantnag on Thursday.
The combing operation is currently underway. The Railway authorities earlier in the day suspended train services from Budgam-Banihal due to the encounter.
Fresh exchange of fire started between terrorists and security forces in south kashmir's Anantnag district in the early morning hours.
— PTI