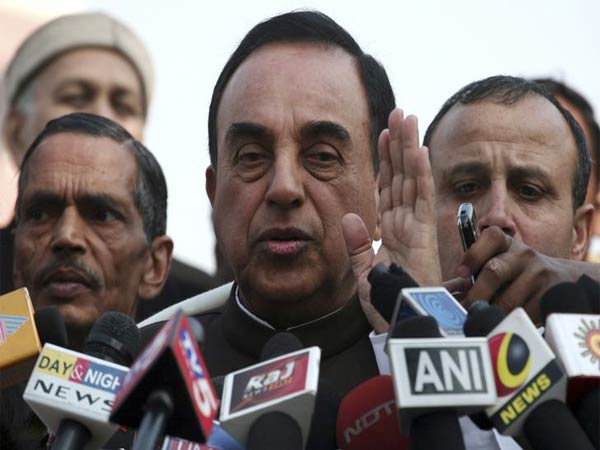 New Delhi: Slamming former Jammu and Kashmir chief minister Farooq Abdullah for his 'some stone-pelters are government paid' remark, Bharatiya Janata Party (BJP) leader Subramanian Swamy on Friday said the National Conference president is 'siding with militants for cheap popularity'.
Swamy said Farooq Abdullah and National Conference leader Omar Abdullah have succumbed to 'militants' in order to remain in news.
"Therefore, it has made difficult for people like Omar Abdullah and Farooq Abdullah, who have had in past things, but slowly they have succumbed for cheap popularity. There is no other way to get popularity but by siding with militants," Swamy told ANI.
Denying Abdullah's remark, Swamy said such a statement might have been made targeting Jammu and Kashmir Chief Minister Mehbooba Mufti due to the old rivalry.
"He maybe meaning Mufti Sayeed's daughter. That's an old rivalry and I would not believe it unless our people confirm it," he said.
Swamy, explaining the present situation in the Valley said it is impossible for a Muslim in Kashmir to become moderate or patriotic because militants extract a price i.e. they kill.
"If you oppose them, they (militants) kill. Whereas, we have all kinds of liberals and human rights activists telling us that even if you are carrying a gun and somebody gives you kick in your butt, you give your other cheek. We are not a salvation army, we are a full-fledged army," he said.
Farooq Abdullah yesterday backed stone-pelters, saying that not all of them are like the one (who were seen hitting the CRPF jawan in a viral video) but some of them are even government paid.
However, Abdullah dubbed as 'unfortunate' the incident in which a Central Reserve Police Force (CRPF) personnel was roughed up by a youth in Srinagar and lauded him for not losing his calm.
"I think it is unfortunate. It is tragic and it should not have happened. I am grateful to that CRPF man, who did not react, kept his calm and that was a very good thing otherwise the situation would have been more nasty," Abdullah told the media here.
The video features a CRPF personnel using immense restraint even when he is attacked by the youth.
The video shows the jawan walking when suddenly a local attacks him. The impact of the attack makes the jawan's helmet roll down the road. This caused him some injuries.
— ANI