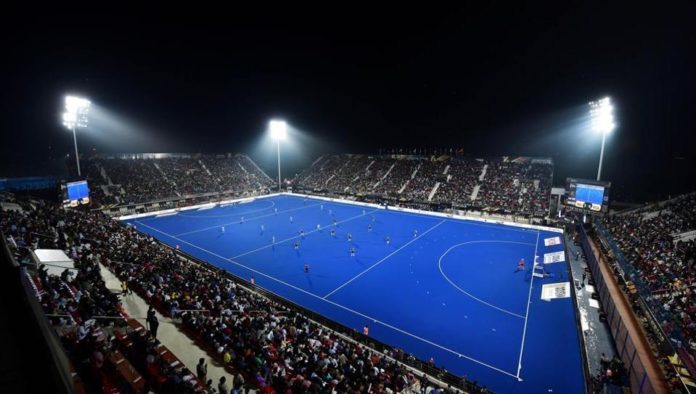 Asian Games champions Japan and African champions Republic of South Africa by winning their respective crossover games against Poland and Russia have completed the line-up for the two semi-finals of the FIH Series Finals at Kalnga Stadium, Bhubaneswar, on Friday.  While Japan will take on the host India in the second semi-final, South Africa will play the United States in the first semi-final. In the first game on Friday, Russia and Poland will meet again to decide fifth and sixth positions.
Which two teams from this group go to the Olympic Qualifier will be known by tomorrow evening.Led by Mohan Gandhi of Indian origin, the United States has performed well in the tournament.  They beat Mexico 9-0 and held Asian games champions Japan to a 2-2 draw. The South Africans are no push overs. Though they qualified for the 2016 Olympic Games, they decided not to compete in Rio. Now the Springboks are keen to be back in Olympics and have come back well prepared. Their 2-1 win over Russia was no fluke as they played to a game plan and emerged deserving victors to qualify for the semis where they will face the Americans.For the host India meeting Asian challengers Japan will not be an easy encounter as the Japanese are known to be great come back team as it proved during the last Asian games in Jakarta. Though Japan has nothing to prove as it already stands qualified, not only as a host but also as the Continental champion (Asia), it can prove to be a tough opponent to India. The past encounters, however, reveal that India had been recording big wins over Japan in most of the games. All will depend upon how Indians, especially the drag flickers, take their chances. Onus will also be on the forwards, including Mandeep, Akashdeep, Gursahibjit and others.Skipper Manpreet with his experience  too can lend support to both defence and offence.
Coming to the women's section, India will start its campaign for a berth in Olympic Qualifier at Hiroshima on Saturday when it takes on Uruguay.