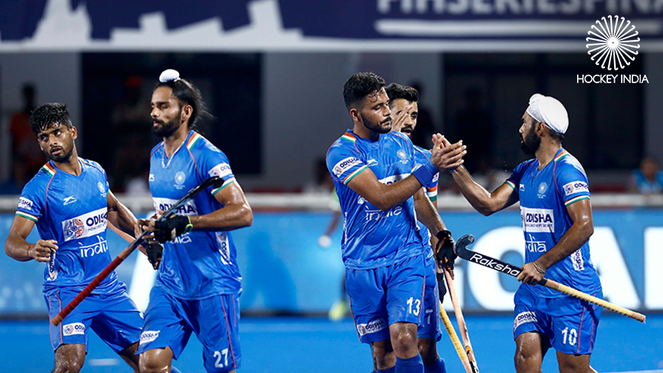 The host India continued its winning spree overcoming a hard fighting Poland 3-1 in its second game of the FIH Series Finals at Kalnga Stadium in Bhubaneswar on Friday. For
Poland it was its first defeat in two games. India had beaten Russia 10-0 in the first game yesterday.
It was skipper Manpreet Singh who masterminded India's win with two of three goals while drag flicker Harmanpreet Singh accounted for the third goal. When Poland scored its only goal in the 25th minute through a defence lapse, it was young Mateusz Hulboj who latched on a poor clearance by Indian defence to put the ball home past Pathak, the Indian goalkeeper.
Poland may have lost today's game but they had something for India. The Poles were solid in their marking, tackling and even interceptions while Indians were callous and slow in all these departments. India missed two good scoring chances, including one by skipper Manpreet and the other by Mandeep Singh. Both were from handshaking position with the goalkeeper. India could convert only one of five penalty corners it earned.
After a barren first quarter, India got its first goal of the match in the 21st minute when Manpreet latched on to a rebound off a penalty corner shot and beat the Polish goaltender. The second goal  for India and Manpreet came in the 26th minute following a good move with Gursahibjit Singh. India had its share of chances but tight marking by the Poles did not give Indians the opportunities as normally they would have got in a similar match.
Earlier, Russia defeated Uzbekistan 12-1. It was ida great consolation for the Russians as they had suffered a humiliating 0-10 defeat at the hands of the host India on the opening day of the tournament. The Russians however, drew some consolation with a 12-1 win over. Interestingly, both Russia and Uzbekistan had been once members of the undivided Soviet Union.
The Russian win was masterminded by Matkovskiy Semen who scored five of 12 goals for his team. he scored in the 13th, 17th, 26th, 44th and 48th minute while Skiperskiy Alexander chipped in with a brace in the 15th and 22nd minutes. Of the 13 goals, five came from penalty corners, four for Russia and lone goal for Uzbekistan. One goal also came off a penalty stroke for Russia.