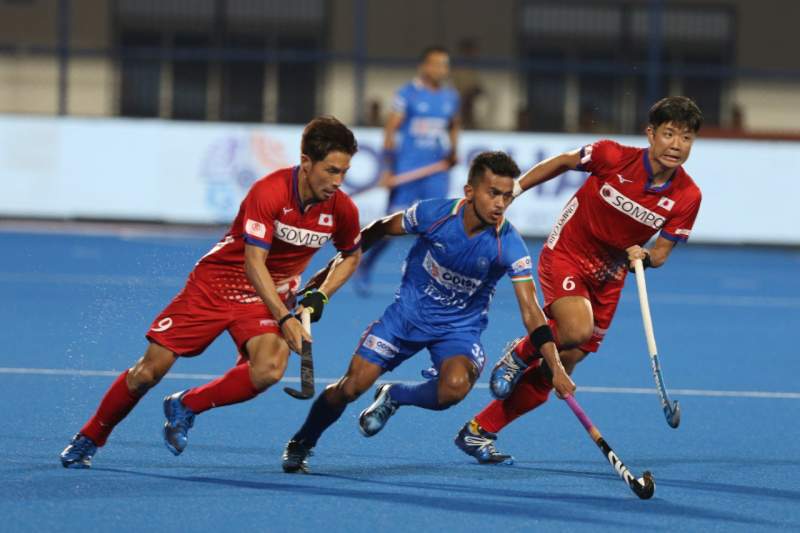 Besides confirming its berth in the Olympic Qualifier, the host India has set summit clash with South Africa in the FIH Series Finals at Kalinga Stadium in Bhubaneswar on Saturday.
Earlier, South Africa overcame a spirited challenge from the United States 2-1 to enter the final besides reserving its berth in the Olympic Qualifier also.
Japan has already booked its berth in Tokyo Olympics 2020, both as a host as well as Asian games champion.
It was the 16th encounter between the two countries since Japan beat India last 2-1 in Asian Champions Trophy in November, 2013. Since then India has won 14 games and one has ended in a draw.Japanese, however, packed some surprises for the home team  as it went on the offensive from the hit off and in the second minute it had taken a lead with a pleasant surprise goal through  Kenzi Kitazato. Stung by the reverse, India put all its reserves in action to launch a massive counter offensive. Swarming all over the Japanese territory, Indians found themselves bogged down by a tight defence by fast moving opponents.India had to wait till the seventh minute when Harmanpreet found the target from a penalty corner. For Harmanpreet, it could not have been a better 100th international.A series of penalty corners later, it was Varun Kumar who put India in the lead with a neat conversion. Five minutes into the second quarter, Japanese were back on level terms with a brilliant goal by Kota Watanabe.
Though Japanese put everything into their game, questioning at times, the judgments of referees but could not get any further goals against their more skilful opponents. Goals by Hardik Singh, Ramandeep Singh, Gursahibjit Singh Vivek Sagar Prasad made the tally look impressive for India.