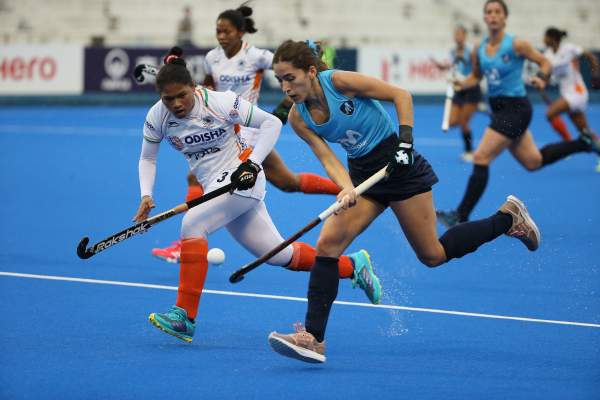 In its  quest for a place in the Olympic Qualifier, Indian women's hockey team made an impressive start defeating Uruguay 4-1 in Hiroshima on Saturday. India led 2-0 at the breather.
In other games decided on the first day today, China defeated Mexico 7-0, Japan edged out Russia 2-1 while Poland had an easy 5-0 win over Fiji. Poland and Fiji are other teams in India's pool.
It was second win for India against Uruguay in as many matches. While the first game played between the two countries in 2017 had ended in 2-2 draw but India went on to win the match 4-2 in the penalty shootout.
Skipper Rani led from the front by scoring India's firs goal in the tournament. With her good stick work, she worked out a move in the 10th minute to score her first goal.. Drag flicker Gurjit Kaur made no mistake with her flick from a penalty corner award in the 20th minute. Though Indians enjoyed upper hand and had better control, the South American girls put up a gallant fight as they tried to match their opponents in every department of the game.
After change of ends, it was Jyoti who extended India's lead with a good field goal. In the 51st minute, Uruguay drew some consolation with a an opportunist field goal by  Teresa Vana. Versatile Lalremsiami completed India's tally with a fine field goal in the 55th minute.