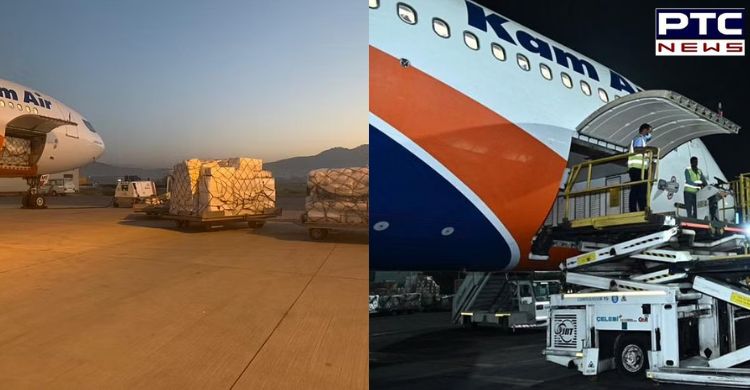 Kabul (Afghanistan), June 24: India on Friday delivered the second consignment of relief aid to support the people of Afghanistan affected by the massive earthquake that struck this week in the eastern part of the country.

The relief batch is being given in the wake of a devastating earthquake that claimed more than 1,000 lives.
"Second consignment of India's earthquake relief assistance for the people of Afghanistan reaches Kabul," the Ministry of External Affairs (MEA) Spokesperson Arindam Bagchi said on Twitter.
The relief assistance includes essential items like family ridge tents, sleeping bags, blankets, sleeping mats, etc. It will be handed over to the United Nations Office for Coordination of Humanitarian Affairs (UNOCHA) and the Afghan Red Crescent Society (ARCS) in Kabul.
"In the wake of the tragic earthquake that struck Afghanistan on June 22, 2022, causing massive destruction and loss of precious lives, the Government of India, as a true first responder, has dispatched 27 tons of emergency relief assistance in two flights for the people of Afghanistan," the MEA said.
Also Read | Indian national shot dead in US' Maryland, father says never wanted him to go abroad
"As always, India stands in solidarity with the people of Afghanistan, with whom we share centuries-old ties, and remains firmly committed to providing immediate relief assistance for the Afghan people," it added.
Earlier on Thursday, India handed over the first relief consignment to support the Afghan nationals affected by the earthquake and also deployed a team to the Embassy in Kabul to coordinate the efforts of stakeholders for the delivery of humanitarian aid.
The Taliban has welcomed India's decision to send its technical team back to Afghanistan so that humanitarian aid can continue.
Abdul Qahar Balkhi, a spokesperson for the Taliban, said in a statement on Thursday that "Islamic Emirate of Afghanistan (lEA) welcomes decision by India to return diplomats & technical team to their embassy in Kabul to continue their relations with the Afghan people and their humanitarian assistance."
Also Read | 45.30% voter turnout in Sangrur Lok Sabha bypoll; lowest since 1991
-PTC News