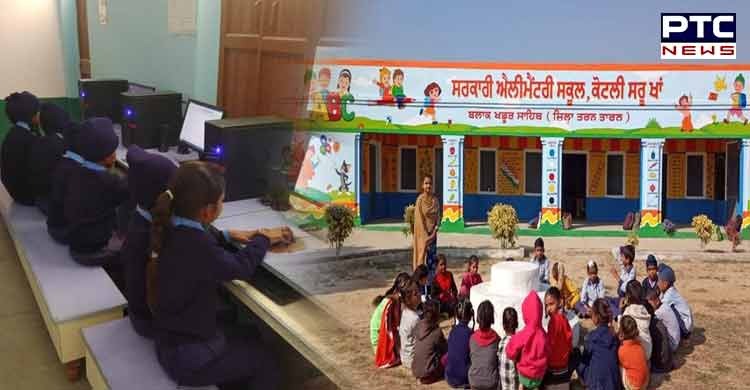 Chandigarh, September 8 : Four months after National Achievement Survey (NAS) declared Punjab government schools better than much talked about Delhi government school, another survey has given a morale boost to education sector Punjab. In the Foundation Learning Study (FLS) 2022 report released Tuesday, it has been found that Delhi has a higher percentage of students lacking the basic knowledge and skills in three common subjects – Maths, English and Hindi – compared to Punjab.

Also Read| Indian Railways 'invites' bids for privatisation; Know details
The study, published by the Union Department of Education and the National Council for Education Research and Training (NCERT), uses a sample size of 86,000 children in 10,000 schools nationwide to assess basic number and language learning skills in third grade. It was carried out in country to investigate. In Punjab, her 3,233 children in 320 schools were tested in mathematics and  three languages ​​(English, Hindi and Punjabi).
Celebrating the achievement Shiromani Akali Dal leader and Bathinda MP Harsimrat kaur Badal in her twitter said, " 3 Cheers for Punjab schools! Another hat trick to be proud of. Punjab schools outclassed Delhi schools in 3rd consecutive survey. Latest Foundation Learning Study, 2022 reveals higher %age of class 3 students lack basic knowledge compared to Punjab ones.
Survey again exposes failed Delhi Model which CM @BhagwantMann  wants to import into Punjab."
Taking a jibe at AAP government Punjab, Congress state president Amarinder Singh Raja Warring in his twitter said, "Will @AAPPunjab  government still persist with denial as yet another survey puts Punjab schools ahead of Delhi.  Time for AAP govt to give up misplaced inflated ego and acknowledge the fact that already existing Punjab Model is better than overhyped Delhi Model."
Former CM Captain Amarinder Singh also took to his twitter and said, "Time & again various studies and surveys have reaffirmed that Punjab's education system is far better than @AamAadmiParty's education model. Our education dept and teachers have toiled hard to achieve this feat over the last few years. Kudos to them!"
Notably, in Foundation Learning Study 2022, a survey jointly conducted by the Union Ministry and NCERT found that Delhi students were far behind Punjab students in Maths, English and Hindi subjects.
Also Read| After Himachal, landslide blocks roads to Jammu-Kashmir; Check details
-PTC News