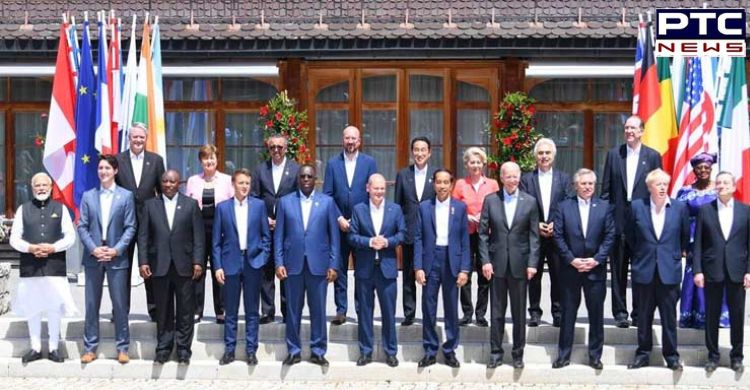 Schloss Elmau (Germany), June 27: Prime Minister Narendra Modi and the leaders of the G7 nations on Monday posed for a photo ahead of the G7 Summit at Schloss Elmau in Germany.

German Chancellor Olaf Scholz on Monday welcomed the Prime Minister at Schloss Elmau, ahead of the G7 Summit. PM Modi has been attending the summit at the invitation of Chancellor Scholz.
"Working together for 'Progress towards an equitable world'. German Chancellor @Bundeskanzler Olaf Scholz welcomes PM @narendramodi to the @G7 Summit at Schloss Elmau," the Ministry of External Affairs (MEA) said on Twitter.
The main focus of the G7 leaders of state and government on the second day of the summit in Elmau will be sustained support for Ukraine. On Sunday, the Chancellor welcomed the G7 leaders of state and government to the summit hosted by Germany.
"We are united by our view of the world. We are also united by our belief in democracy and the rule of law," said Chancellor Scholz.
In a first working session on Sunday, the leaders of states and governments of the G7 discussed global economic issues.
Also Read | Punjab Budget 2022 LIVE Updates: Finance Minister Harpal Cheema dedicates Budget to people of state
"All G7 countries are concerned about the crises that are currently to be overcome - falling growth rates in some countries, rising inflation, shortages of raw materials and disruption to supply chains. These are no small challenges and it is therefore important to share responsibility," Scholz added.
"The G7 are a good community to develop joint responses to the challenges of our time. It is important that we act decisively and also as a unit. Both belong together," he further said.
PM Modi landed in Munich on Sunday to attend the G7 summit, where he would meet with G7 and partner countries to address issues ranging from the environment to energy to counter-terrorism.
PM Modi will conduct bilateral meetings with leaders of several of the participating nations on the sidelines of the Summit.
Also Read | Promise of free electricity will be fulfilled from July 1: FM Harpal Cheema
-PTC News