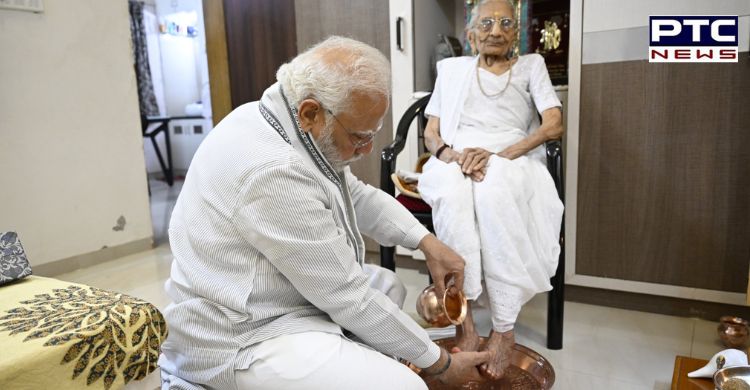 Gandhinagar (Gujarat), June 18: Prime Minister Narendra Modi on Saturday visited his mother Heeraben Modi at her residence in Gujarat's Gandhinagar on her 100th birthday.
"Took blessings of my mother today as she enters her 100th year," the Prime Minister said on Twitter.

PM Modi reached Gandhinagar on Saturday morning on the occasion of his mother's birthday and washed her feet and sought her blessings. He had last met his mother in March during his two-day Gujarat visit.
"Maa…this isn't a mere word but it captures a range of emotions. Today, 18th June is the day my Mother Heeraba enters her 100th year. On this special day, I have penned a few thoughts expressing joy and gratitude," PM Modi said in another tweet.
PM Modi also shared a blog post in which he penned a heartfelt message, expressing joy and gratitude on the occasion of his mother's 100th birthday and said that had his father been alive, he would have completed his centenary in 2022.
"Just last week, my nephew shared a few videos of Mother from Gandhinagar. A few youngsters from the society had come home, my father's photograph was kept on a chair, there was a kirtan, and Mother was immersed in singing bhajans while playing the manjeera. She is still the same - age may have taken a toll physically, but she is as mentally alert as ever," the Prime Minister wrote.
"I have no doubt that everything good in my life, and all that is good in my character, can be attributed to my parents. Today, as I sit in Delhi, I am filled with memories from the past," said; adding, "Mother used to wash utensils at a few houses to help meet the household expenses. She would also take out time to spin the charkha to supplement our meagre income. She would do everything from peeling cotton to spinning yarn. Even in this back-breaking work, her prime concern was ensuring that the cotton thorns don't prick us."
Also Read | Terrorist attack Gurudwara in Kabul
Furthermore, on the occasion of Heeraben Modi's 100th birthday, a road in Gandhinagar will be named after her to "keep her name alive forever and for future generations to learn lessons of service."
"PM Narendra Modi's mother Hiraba is turning 100 years old and keeping in account the demand and feelings of the people of the state capital, it has been decided to name the 80-metre road from Raysan Petrol pump as Pujya Hiraba Marg," said Hitesh Makwana, Gandhinagar Mayor.
The statement by the Gandhinagar Mayor further read that it was decided to rename the 80-meter road for the purpose of keeping the name of Hiraba alive forever and for future generations to learn the lessons of renunciation, penance, service and conscientiousness from it.
Later in the day, PM Modi is scheduled to visit the famous pilgrimage site of Pavagadh in the Panchmahal district, where he will unfurl the flag after performing pooja.
Also Read | Two killed, several injured in roof collapse in Punjab's Ludhiana
-PTC News