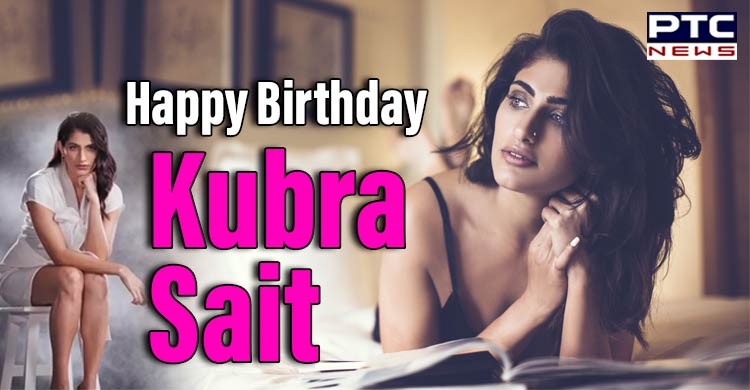 Happy Birthday Kubbra Sait: If you have seen Sacred Games, you can't simply forget the name Kukkoo, for who's magic Ganesh Gaitonde played by Nawazuddin Siddiqui went on a hunt for becoming rich. Well, she is celebrating her 36th birthday on Saturday as she was born on July 27, 1983. The India model and actress set a landmark for the acting through the Netflix Web-series Sacred Games.
https://www.instagram.com/p/B0OZB0zFnuC/
Happy Birthday Kubbra Sait: Here are some of the Lesser-Known Facts about Sacred Games Actress Kukkoo...
https://www.instagram.com/p/B0N1IpFFvnu/
The 36-year-old Kubbra Sait is from Bengaluru and even worked in Microsoft Office, Dubai. Kubra did her schooling from Bengaluru and studied Marketing and Finance from National Institute of Management and Informatic Sciences in Bengaluru. Later, she moved to Dubai in 2005, where she did her first job in Marketing selling cookies. After two years, she was in Microsoft.
https://www.instagram.com/p/BzkskbKlZ0x/
Kubbra Sait was a host and she did it for the first time, while she was just 13. Okay, you don't believe it, put a little stress on your mind, you must have seen her on Star Sports Pro Kabaddi.
https://www.instagram.com/p/BzhTB6WlDQ3/
Due to mother's encouragement and motivation, Kubbra gets out of her phobia from the stage and gained confidence. Meanwhile, she has hosted prestigious awards in around 30 countries and has been rewarded as India's Best Female Emcee Award in 2013.
https://www.instagram.com/p/By79r5tFBiJ/
Kubbra Sait made her Bollywood debut in 2010 through Salman Khan starrer Ready, then she was featured in the film Sultan. And then, it was chart-buster Sacred Games.
https://www.instagram.com/p/Byt2tYtlZ1i/
Sacred Games Actress Kukkoo won Miss Personality, 2009 in Miss India Worldwide Beauty Pageant. Also, she has won the IAA Leadership award and the IAA Crown Award.
https://www.instagram.com/p/BydL4UUlUWN/
Also Read: Happy Birthday Kriti Sanon: 5 Lesser-Known Facts about the Lukka Chuppi Actress
https://www.instagram.com/p/ByCiwEElneC/
If an actor is known for a character, then there is nothing more than the achievement of an artist. Likewise, Kubbra Sait proved this, and she will be known for her character Kukkoo for a long time. Wishing her many many happy returns of the day.
-PTC News