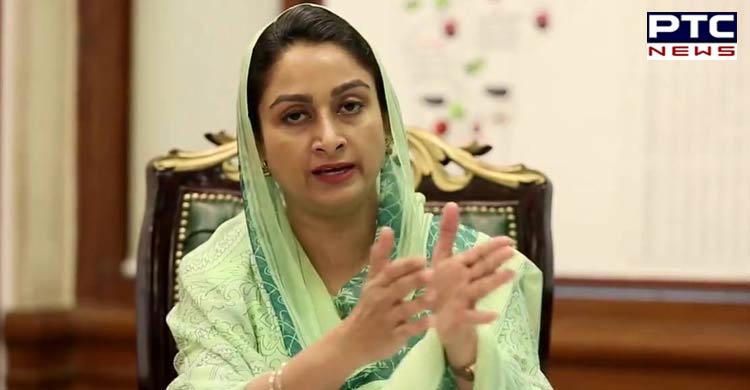 Harsimrat Badal asks Bhagwant Mann to tell Pbis why he is keen to join the Congress party
Chandigarh, March 29 – Union food processing industries minister Harsimrat Kaur Badal today asked AAP Punjab Convener Bhagwant Mann to tell Punjabis why he was getting ready to dissolve the AAP State party unit and join the Congress party solely for petty selfish reasons.
Also Read: Stark difference between devlp of Bathinda and utter neglect of Patiala reason enough to reject Preneet – Sukhbir Badal
"Bhagwant Mann's frustration at the party's failure to cement a quick deal with the Congress party is now coming out in the open. He has become so desperate that he is ready to dissolve the Punjab AAP unit lock stock and barrel in a desperate bid to bolster his chances from Sangrur where he is staring at an imminent defeat". Stating this here, Mrs Badal said the day was not far off when other outfits, including the PEP of Sukhpal Khaira would issue similar statements as all of them were being propped up by the Congress party.
Asking Mann to explain his love for the Congress party, Mrs Badal said Mann had gone to the extent of saying that AAP leaders were from different fields and would go back to their vocations once AAP was merged with the Congress party. "While this statement conclusively proves SAD's contention that AAP was always a B team of the Congress and had contested the 2017 assembly elections as a team, the latest development has made it clear that AAP is now part and parcel of the Congress party".
The Bathinda mp said Mann was only speaking his "master's voice". She said AAP Convener Arvind Kejriwal had been constantly begging the Congress party to take his party under its ambit. "Now we have AAP's Punjab unit chief saying AAP is even ready to dissolve itself to achieve this goal".
Stating that Mann would now have to tell Punjabis why he had cheated them by selling a dream of a third alternative when he was part of the Congress party's B team all along, Mrs Badal said "five years of shadow boxing have been exposed. Now Bhagwant Mann needs to tell the people why he is giving a clean chit to the corruption ridden non-performing Congress government. He needs to tell Punjabis why he is so desperate to join the Congress party which has reneged on each and every promise made to them be it complete loan waiver, 'ghar ghar naukari' or increase in social welfare benefits. How will he face suicide victim families who are still waiting for the promised Rs 10 lakh compensation as well as government job promised to them?"
Also Read: Punjab voters will teach Congress a 'lesson' in LS polls: Sukhbir Badal
Mrs Badal said it was now clear that Bhagwant Mann also realized that AAP was a finished force and was begging the Congress to leave the Sangrur seat to him under an alliance or even take him into the Congress fold. "If this is the state of affairs of the Punjab AAP Convener the less said about AAP the better", Mrs Badal said adding the people would never forgive Mann for his lies and deceit and would teach him a befitting lesson.
- PTC NEWS