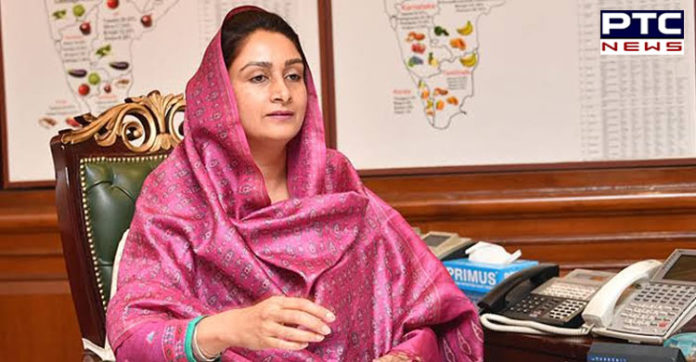 Chandigarh: Union food processing industries minister Harsimrat Kaur Badal on Friday said it was heartening that the Congress government was inaugurating the modernized Ludhiana Abattoir which had become possible with a grant of Rs 7.93 crore by her ministry tomorrow but still dragging its feet on inauguration of the Ladhowal mega food park which had also come about due to the food processing ministry.
In a statement here, the Union minister said out of the total cost of Rs 19.50 crore incurred on the Ludhiana Abattoir modernization project, as much as Rs 7.93 crore had been granted for the project by the ministry of food processing. She said while the inauguration of this project would address the difficulties faced by the processing industry and consumers both, the undue delay in inauguration of the Ladhowal mega food park was harming the prospects of the burgeoning food processing industry in Punjab, progressive farmers as well as youth who were slated to get employment at the facility.

Asking chief minister Capt Amarinder Singh to intervene and direct the Punjab Agro Industries Corporation (PAIC) to operationalise the food park immediately, Mrs Badal said an inquiry should also be conducted to ascertain why the food park project inauguration had been delayed for so long.
Sukhbir, Harsimrat Badal share daughters pix on Girl Child Day
Mrs Badal sadi she had been consistently reviewing the progress of the mega food park for which the PAIC had been given a grant of Rs 50 crore by the food processing ministry. She said the Park was approved in November 2015 and was slated to be completed by May 2018. She said this delay stemmed from the complete lack of initiative of PAIC to stick to mandated schedules. She said many of the common facilities had been completed but the industry was unable to use them because of delay in inauguration of the food park.
-PTC News