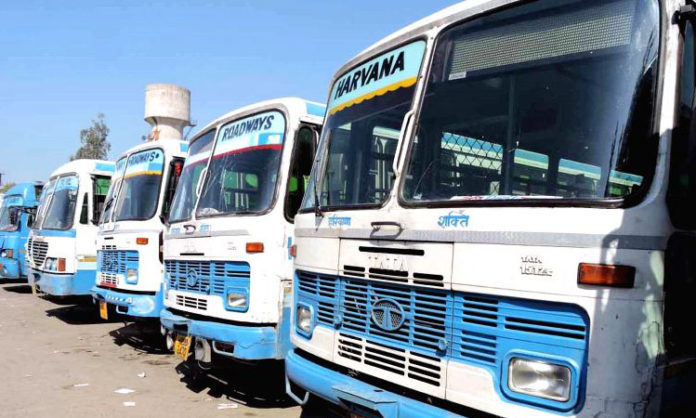 Haryana Roadways Strike Fizzles Out
A strike call given by employees of state-owned Haryana Roadways fizzled out Wednesday as the police detained protesting workers in pre-dawn action at several depots.
Officials claimed the bus services across the state remained normal.
Union leaders had halted bus services at a few depots on Tuesday night, but they were restored in the morning, officials said.
The police rounded up several employees, including union leaders, at the depots to foil protests.
They resorted to a mild lathicharge at a few depots, including Fatehabad and Jind, as some employees sat on dharna at the main gates to stop buses from leaving.
The Haryana government had imposed the Essential Services Maintenance Act (ESMA)to prevent the one-day strike from taking place.
Prohibitory orders under section 144 of the Code of Criminal Procedure were imposed at some places to prevent the assembly of more than four people.
Police said several Roadways employees were detained for defying these orders.
The Roadways employees had given a call for the day-long strike to protest against the government move to allow private buses to run within and from the state.
Union leaders claimed that some workers suffered minor injuries in the police action.
Employees sat on dharnas at Fatehabad, Jind, Hisar, Ambala, Tohana, Sirsa, and Panchkula.
The Haryana government had on August 30 invoked the ESMA for six months, barring bus workers from going on the proposed strike. Earlier, Transport Minister Krishan Lal Panwar had termed the strike call "unjustified".
However, opposition Indian National Lok Dal had slammed the government's move to invoke the ESMA, saying such a measure was not needed.
The Roadways employees have gone on strike earlier during the past year as well.
Also Read: Punjab Roadways employees on strike today