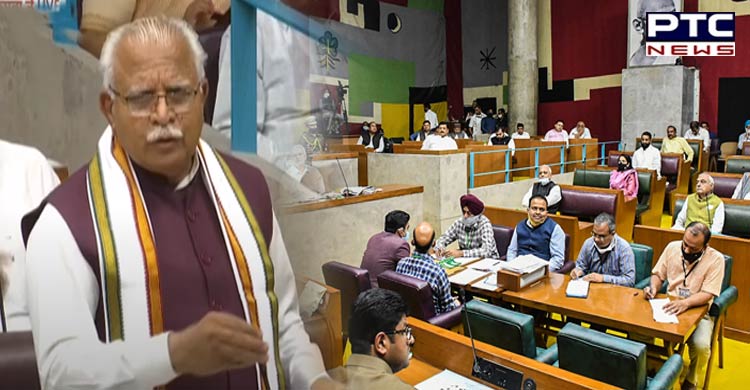 Chandigarh, April 5: After Punjab passed a resolution staking claim to Chandigarh, Haryana on Tuesday called a special session of the Assembly, wherein Chief Minister Manohar Lal Khattar also moved a resolution on the issue. He urged the Central Government to not take any steps until all concerns related to the Punjab Reorganisation Act were addressed.

The Central Government was also urged to take measures for the construction of the Sutlej-Yamuna Link Canal (SYL) in compliance with the Supreme Court order.
Also read | Ranbir Kapoor, Alia Bhatt getting married in April: Reports
"This House notes with concern the resolution passed in the Legislative Assembly of Punjab on 1 April, 2022 recommending that the matter for transfer of Chandigarh to Punjab be taken up with the central government," said the resolution moved by Khattar during the special session of the Haryana Assembly.
The discussion on the issue continued for almost three hours and there were 25 speakers. "I congratulate those who supported this resolution," said Haryana CM Manohar Lal Khattar.
He also mentioned the amended rules in BBMB in its resolution. He said the recent amendment to the rules of the BBMB by the Centre for the appointment of whole-time members was against the spirit of the Punjab Reorganisation Act.
He said the Indira Gandhi Agreement, the Rajiv Longowal Accord and the Venkatramaiah Commission had accepted the claim of Haryana to Hindi-speaking areas that fell in Punjab.
ML Khattar also demanded that Chandigarh should have Haryana officials in prescribed percentage.
Also read | COVID cases in India decline further, 795 infections logged
On the occasion, Deputy CM Dushyant Chautala sought to discuss Shah Commission in Haryana Resolution.
"Chandigarh is Haryana's capital and will stay that way. There should be 50 per cent share in the High Court and 60:40 share in Panjab University" said the Haryana Deputy CM.
Former Chief Minister and currently Leader of the Opposition in the Haryana Assembly Bhupinder Hooda said Chandigarh should have been given to Haryana. "Punjab resolution disturbs brotherhood between Haryana and Punjab," he added.
He also raised the issue of amended BBMB rules during the special session of the Haryana Assembly.
Haryana Assembly Speaker Gyan Chand Gupta said Haryana's right on water had been reiterated several times. "Work on handing over of Hindi-speaking areas is still incomplete," the Speaker added
Haryana Special Assembly Session: Anil Vij terms Punjab's resolution on Chandigarh 'mischievous'
Flaying the AAP-led Punjab Government over staking claim to Chandigarh during the special session of the Haryana Assembly, Haryana Home and Health Minister Anil Vij on Tuesday alleged that Punjab was soon going to face Sri Lanka-like crisis. Anil Vij said the resolution passed by Punjab was a "political mischievous resolution" as the Punjab Government was aware of the promises it made that could not be fulfilled. Read more
-PTC News