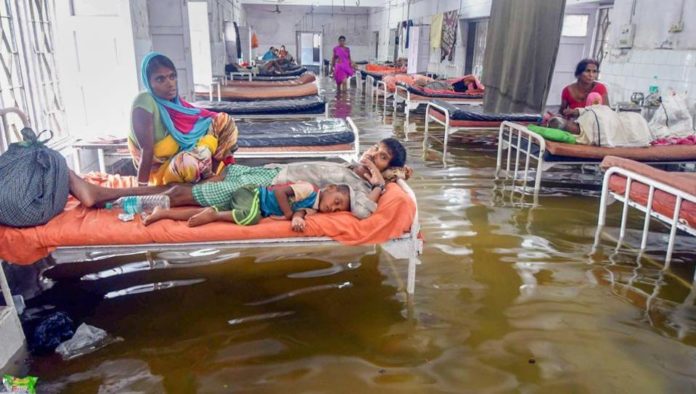 Heavy Rain: ICU at Patna's hospital has patients, and fish
Lives of patients at Nalanda Medical College Hospital (NMCH) in Patna was seen at risk after rain water gushed into the ICU and general wards of the hospital, Saturday evening.
On Sunday, the ICU was in knee deep water with small fish and insects visible in the rain water creating an unusual sight for the attendants of patients and nurses.
The nurses along with the medical staff at the hospital had to wade through the water to attend to patients many of whom left the hospital fearing infection due to the unhygienic conditions.
Anand Prasad Singh, superintendent of NMCH said, "We are trying to pump out the water. It will take three hours to pump out all the water. Being in a low-lying area we have to suffer every year."
" See, how the place has turned into a hell. Fish and insects have found their way into the ICU. There could be snakes here too. Patients can turn more sick in this unhygienic condition," said, an attendant of a ICU patient.
"We have given the patients an option to move to Patna Medical College Hospital if they want and we will provide them an ambulance. We have no other options," he said.
"We have sprinkled bleaching powder in the water… We have also had a talk with the Patna Municipal Corporation," he added.
The problem of waterlogging in NMCH is very common and it is expected to be solved by next year when the new building, where waterlogging will not be a problem, will become functional, he added.
-PTC News