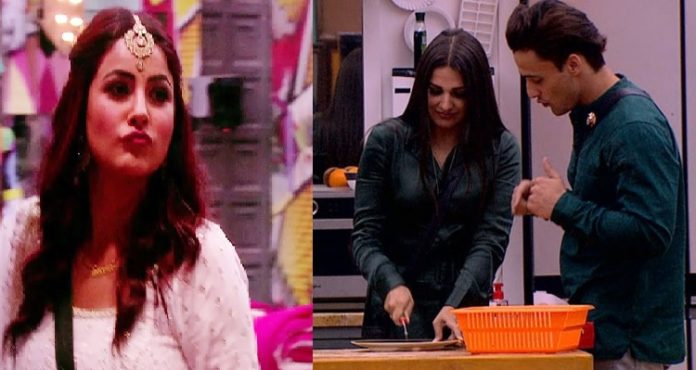 Bigg Boss 13, Himanshi Khurana Asim Riaz Love Story: Punjabi singer and ex-contestant Himanshi Khurana has blamed Shehnaz Gill for her break up with boyfriend Chow. Meanwhile, she has extended her support for Asim Riaz. In a recent interview, Himanshi said that "She (Shehnaz) persuaded my boyfriend's elder brother. She told him a lot of things about me. His brother discussed all that with my boyfriend (Chow) that disturbed our equation. And also it has created a rift between the two brothers."
During Weekend Ka Waar episode, Salman Khan had held Asim Riaz responsible for Himanshi's break-up. Salman said that when "You (Asim) knew that Himanshi was already in a relationship with someone outside the house, you should have not expressed your love to her." However, Himanshi has extended support for Asim Riaz and shed light on the equation of both of them.
In a series of tweets, Himanshi Khurana wrote: "I am sorry Asim, that you had to listen all of it which was shocking for me as well. You need motivation this time and I'm also very upset. Also, the one featuring with me in song Teriyan Mohabattan is not Chow. Me and Asim support each other."

Bashing out at Vindu Dara Singh, Himanshi said: "Mr Vindu Dara Singh ji, don't cross your limit. That's Asim and my pure bond which is far away from your understanding. You must not take interest in Asim's love story and I am sure that you must had feelings in young age. For me, Asim is the most decent person??."
I know that my fans and Asim's fans are upset, me too. I am not in state of mind but I believe that something good is going to happen. This is personal life of me and Asim and I am very happy that Asim strongly said that I do and will forever. Don't talk negative because everything is pure feelings involved in between us," Himanshi said in a tweet.
Bigg Boss 13: Himanshi Khurana splits with fiancé for Asim Riaz, reveals Parag Tyagi
Meanwhile, she said, "Will clear everything, don't be so insensitive. There will no blame on Asim Riaz, I promise. I know he is upset. My relations has also broken. We both are in tough situation. No one is guilty here. But Asim's fans need to understand that Asim is much closer than me and hence it bothers me."
Furthermore, she said, "No one has right to judge my personal life. It's me who's going through this. Neither Asim nor Chao and me are wrong, it's just a situation. Ups and Downs comes in everyone's life. It's just that our situation is publically broadcasted and therefore the ruckus is going on."
-PTC News