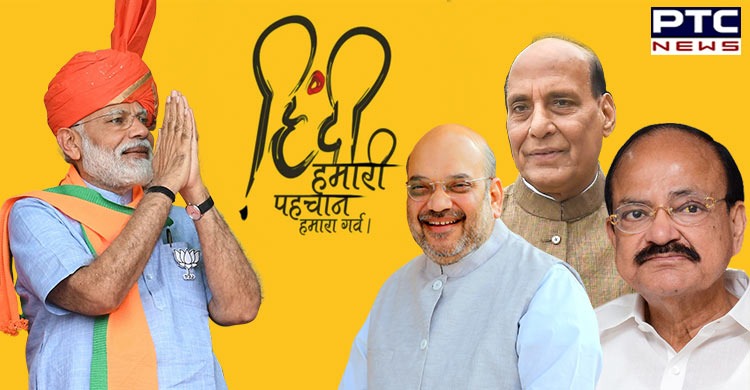 Greeting citizens on the occasion of Hindi Diwas, Prime Minister Narendra Modi described Hindi as a language of simplicity and decency. He tweeted, "Many congratulations to you all on the occasion of Hindi Diwas. The simplicity and decency of a language give meaning to its expression. Hindi has beautifully incorporated these aspects."
https://twitter.com/narendramodi/status/1172732128670302208?s=20
Vice-President Venkaiah Naidu underscored the need for efforts to make Hindi simpler and more accessible. "On Hindi Diwas, I urge that efforts should be made to make the official language, Hindi simpler. Every language is enriched by the experiences of humans and society. Language gives voice to our aspirations," he said. Calling for the interaction of Hindi with other languages, he said this would enrich the Hindi database with words and idioms from other languages.
In his tweet, Union Home Minister Amit Shah exhorted citizens to increase the use of Hindi in daily life. "On Hindi Diwas, I appeal to countrymen to increase the use of their mother tongue and also use Hindi language and contribute to realizing the dream of Mahatma Gandhi and Sardar Patel of one language of the country." In another tweet, he said that while India is a land of diverse languages, it is important for the entire country to have one language as its global identity.
Also read: UP madrassas to teach English, Hindi languages
Union minister for communications, electronics and information technology, Ravi Shankar Prasad said increased use of Hindi is essential for the progress of the country. Union defence minister Rajnath Singh hailed Hindi as a language held in great esteem around the world.