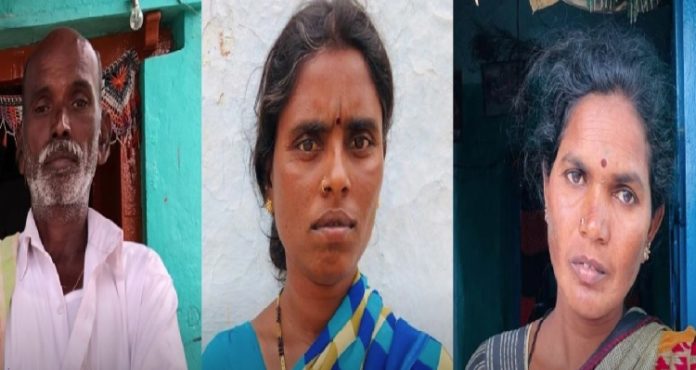 Hyderabad Horror: After the police arrested the four persons accused of the brutal gangrape and murder of a Hyderabad veterinary doctor, family members of three of the four accused reacted to the horrific crime. The three include Jollu Shiva, Jollu Naveen and Chinakunta Chennakashavulu.
On November 28, a veterinary doctor in Hyderabad was gangraped and murdered. They were arrested on November 29.
Accused 2: Jollu Shiva
A cleaner, he offered to take Poornima's* two-wheeler to fix a flat tyre. But the tyre was punctured by the four accused to trap the victim. After joining in the gangrape, he bought petrol and burned the body.
His father Jollu Rajappa, said, "What can I say? Is this why we wanted a son?" Sitting tense with his back held straight, Rajappa appeared to be trying to control his emotions. The family members said they are being humiliated ever since the news spread. Rajappa said, "I have disowned my son." His sister said, "Kill him. What else should they do? After what he has done, what else does he deserve? Kill him."
Accused 3: Jollu Naveen
He was the one who punctured the victim's tyre when she was in her clinic. He, along with the two others, dragged her to the compound and raped her with the others. His mother Laxmi said, "He didn't show any sign of guilt. He didn't tell me anything about what happened the previous night. He ate, did the things he usually does and went off to sleep."
Maintaining a stoic expression, Laxmi said, "How dare he do something like this? How dare he even think of something like this? I am so angry. He should be punished."
Hyderabad Horror: Varun Dhawan and Salman Khan express outrage
Accused 4: Chinakunta Chennakeshavulu
He was among those who dragged Poornima to the compound and raped her. He dumped the body into a lorry and was present at the spot when the body was burnt. His mother Jayamma said he had kidney problems, which is why he did not work. "He made a mistake, he must be strictly punished," his mother said. "I am in pain and I do not understand why and how he could do this, however, he must be strictly punished," she asserted.
Accused 1: Mohammad
While the family of the three accused believe their sons should be punished, the family of Mohammad have a different angle. His mother said, "My son came home on the morning of November 29, around 1 in the morning. He was petrified and kept telling us that he killed someone."
He said, "I was taking my lorry from one side while a bike was coming from the opposite side with a woman sitting on it. I hit her and I killed her'."
-PTC News