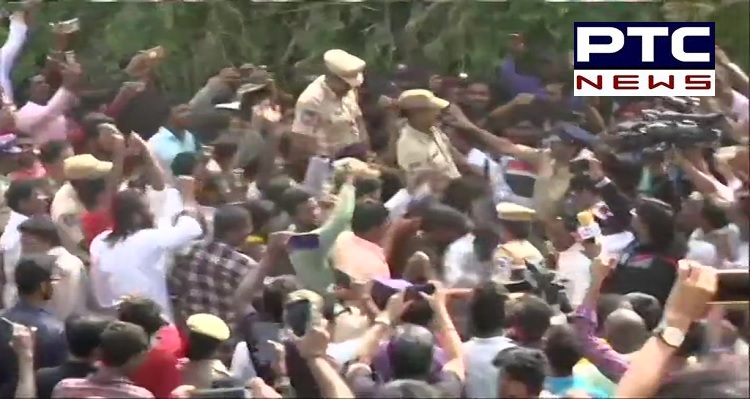 Hyderabad Horror: After all the four men accused in rape and murder of the woman veterinarian were killed in an encounter on Friday morning, people celebrate and cheer for police at the encounter site. In a video, a huge crowd has gathered at the encounter site and lifted the police personnel. In fact, 'DCP Zindabad, ACP Zindabad' slogans were raised near the spot.
Watch it here:
https://twitter.com/ANI/status/1202817281455247360
DCP Shamshabad Prakash Reddy stated that Cyberabad Police had brought the accused persons to the crime spot for re-construction of the sequence of events. However, the accused snatched the weapon and fired on police. Police retaliated in self defence, in which the accused were killed.
https://www.ptcnews.tv/i-am-extremely-happy-nirbhaya-mother-on-hyderabad-encounter-hyderabad-horror/
Also, the neigbours of the woman veterinarian, celebrated and offered sweets to police personnel and even tied Rakhi on their wrists after the encounter. Meanwhile, Chhattisgarh Chief Minister Bhupesh Baghel said that "When a criminal tries to escape, police are left with no other option, it can be said that justice has been done."
Also, BSP Chief Mayawati said that police here in Uttar Pradesh and also in Delhi should take inspiration from Hyderabad Police.
-PTC News