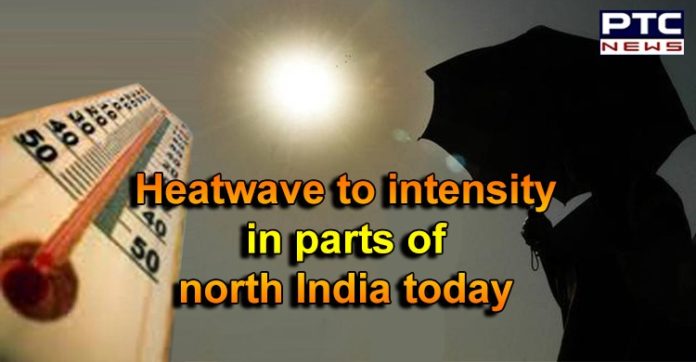 The India Meteorological Department (IMD) on Tuesday said that the heatwave conditions will reach its peak intensity in the northwest, central and adjoining interior parts of eastern India. Delhi, Haryana, Chandigarh, Punjab, Rajasthan and Uttar Pradesh are expected to witness severe heatwave conditions.

According to the IMD, the sweltering heatwave will sweep East Madhya Pradesh and Vidarbha. Likewise, the IMD has issued an Orange alert for Delhi on Tuesday.
Punjab, Chhattisgarh, Odisha, Gujarat, central Maharashtra, Marathawada, interior Andhra Pradesh Telangana, Bihar and Jharkhand will also see heatwave conditions for next 2-3 days.
The IMD, on Monday, predicted a substantial reduction in the heatwave conditions from May 29. "Rains accompanied by thunderstorms will start occurring from May 29 due to easterly winds in the northern parts of India and the temperature is expected to go down to 40 degrees Celsius," IMD stated.
Delhi also experienced extreme heat condition on Monday with the maximum temperature reaching 46 degrees Celsius-mark in some areas of the national capital.
Dr Kuldeep Srivastava, Head of the Regional Weather Forecasting Centre, on Monday, had said that northern India may get respite from the blistering heat from May 29.
Also Read | Amid spike in COVID-19 cases, Himachal Pradesh extends curfew till June 30
Rajendra Kumar Jenamani, head of Regional Specialised Meteorological Centre had also said that the Southwest Monsoon may arrive in Kerala between June 1 and June 5.
Earlier, the India Meteorological Department (IMD) on Sunday issued a "red" warning for Delhi, Punjab, Haryana, Chandigarh, and Rajasthan for the next two days while the temperatures surpassed the 45 degrees Celsius-mark across several parts in north India.
-PTC News