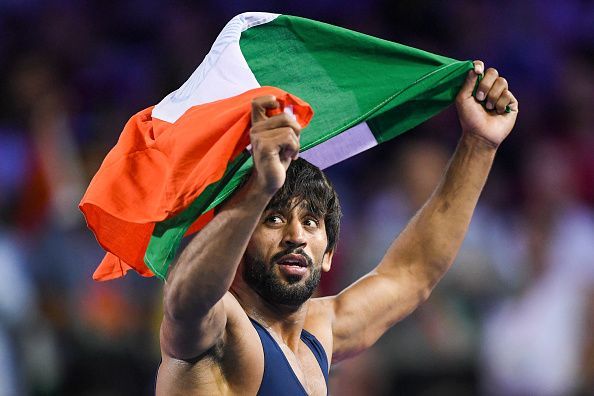 India at CWG: Bajrang 'Bahubali' wins gold as wrestlers bag four more medals
Bajrang Punia (65kg) was the lone gold-medallist but it was nonetheless an admirable haul of four medals by Indian grapplers on the second day of Commonwealth Games' wrestling competition here today.
Punia, the prodigy of Olympic bronze-medallist Yogeshwar Dutt, claimed all his four bouts on technical superiority to finish on top, the most dominating performance of the day by an Indian wrestler
His final bout against Welshman Kane Charig lasted just over a minute.
Finishing with silver medals were Pooja Dhanda (57kg) and Mausam Khatri (97kg), while Divya Kakran (68kg) settled for a bronze.
"This gold medal proves the significant improvement in my wrestling career as I won silver at the last Commonwealth Games. I played four bouts, and I was prepared quite well for the competition," he added.
Asked about his thoughts on the extremely short final bout, Punia said, "I didn't see the time but I wanted to finish it as quickly as possible."
"I respect all my opponents, but I fear none. We all tried our absolute best, but the sky was my limit today," he added.
Punia defeated New Zealand's Brahm Richards, Nigeria's Amas Daniel and Canada's Vincent De Marinis en route the final.
Pooja, on other hand, claimed easy wins in the preliminary stage before being out-witted by defending champion Odunayo Adekuoroye in the final clash. The Indian lost 5-7 in a close contest, during which she did remarkably well in the second round.
"Had I performed the way whole bout the way I performed in the second round, I could have won. I lacked in attack and could not take my chances. I would look to to change the colour of the medal next time. It was hard luck for India," she said.
Joining her in the second place was Khatri, making his debut at the Games. The former Asian Games bronze-medallist had a smooth-sailing preliminary campaign before hitting a roadblock in South African Martin Erasmus.
Erasmus prevailed 12-2 in the bout as Khatri had no response to his relentless attacks.
"I wanted a gold which could not happen and I have myself to blame. I will just move forward and ensure that mistakes don't get repeated," he said.
Earlier, Divya Kakran lost to Nigeria's two-time CWG medalist Blessing Oborududu in the semifinal but recovered quickly to easily get past Bangladesh's Sherin Sultana for a bronze medal.
Yesterday, India had won two gold, one silver and a bronze in the three-day competition. PTI