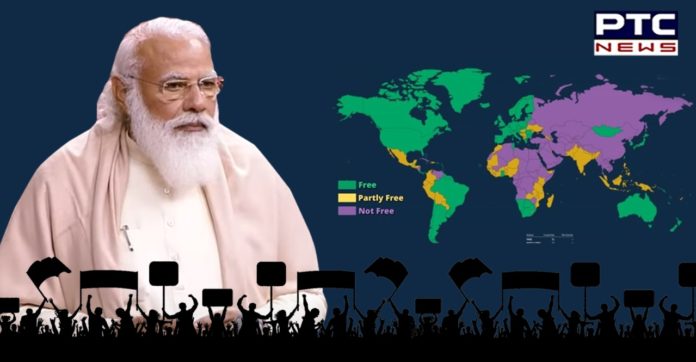 India, one of the world's most populous democracies, has been mentioned as 'Partly Free' in the report of 'Freedom in the World 2021' by Freedom House. Even as the report mentioned Jammu and Kashmir as 'not free'. The report stated that the government of Prime Minister Narendra Modi and its state-level allies continued to crack down on critics during the year.

India's response to COVID-19 including lockdown resulted in the dangerous and unplanned displacement of millions of internal migrant workers, it stated.
Also Read | Coronavirus Updates: US CDC gives nod to fully vaccinated people to go without masks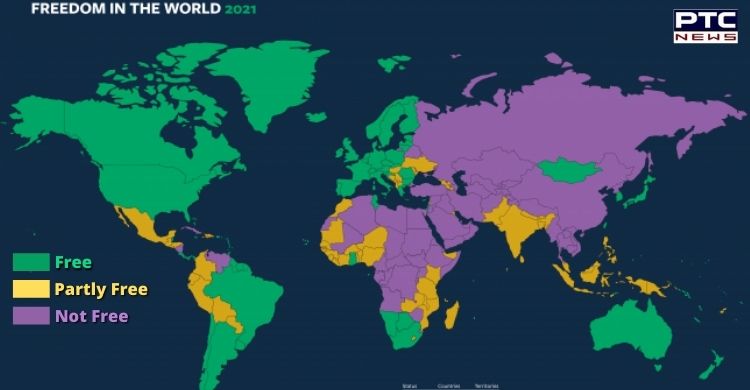 Soon after the report of 'Freedom in the World 2021' was published, Indian critics started giving answers as it mentioned India as 'Partly Free' and even Jammu and Kashmir as 'Not Free'.

It further said that rather than serving as a champion of democratic practice and a counterweight to authoritarian influence from countries like China, PM Narendra Modi, and his party are driving India toward authoritarianism.
Also Read | 'One-sided': India condemns UK Parliament debate on farmers' protest
The fall of India from the ranks of free nations could have a damaging impact on global democratic standards, the report stated. Adding, it said the political rights and civil liberties in India have deteriorated since Narendra Modi became Prime Minister in 2014, with increased pressure on human rights organizations, rising intimidation of academics and journalists, and a spate of bigoted attacks, including lynchings, aimed at Muslims.
The decline accelerated after PM Modi's re-election in 2019, the report by Freedom House stated.
It further mentioned CAA protests and wrote: "the government intensified its crackdown on protesters opposed to a discriminatory citizenship law and arrested dozens of journalists who aired criticism of the official pandemic response."
Under PM Modi, it looks like India has abandoned its potential to serve as a global democratic leader, elevating narrow Hindu nationalist interests, it said further.
"To reverse the global shift toward authoritarian norms, democracy advocates working for freedom in their home countries will need robust solidarity from like-minded allies abroad," it concluded.
Click here for latest updates on Twitter.
-PTC News