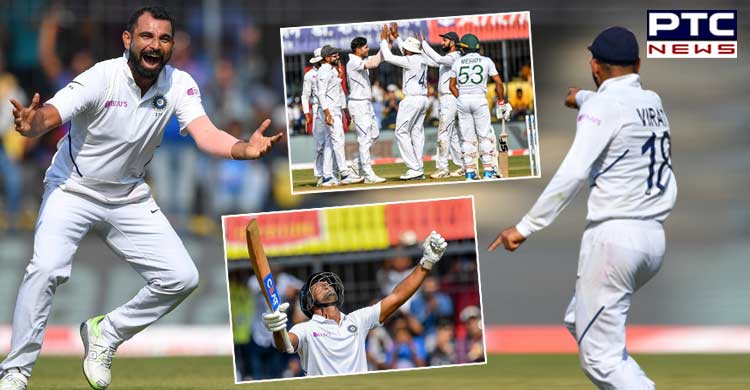 India vs Bangladesh 1st Test: India defeated Bangladesh by an innings and 130 runs in the first Test match of the two-match Test series at Indore on Saturday. Mayank Agarwal has been named Man of the Match for his magnificent double hundred in the first innings. He scored 243 runs off 330 balls including 28 boundaries and six sixes.
Following on, Bangladesh was dismissed for 213 runs in its second innings after India declared its innings closed at overnight score of 493. Mohammed Shami took 4 wickets, Ravichandran Ashwin bagged three wickets, while Umesh Yadav and Ishant Sharma took 2 and 1 wicket, respectively. For Bangla Tigers, Mushfiqur Rahim was the only man who played for long. Rahim scored 64 runs off 150 balls.
However, Virat Kohli couldn't score a run, but he led the side using his bowlers as a weapon. In the first innings, India restricted Bangladesh to 150 runs. In first innings, Mohammed Shami took 3 wickets, while Umesh Yadav, Ishant Sharma and Ravichandran Ashwin bagged two wickets each.
https://www.ptcnews.tv/ind-vs-ban-1st-test-day-2-mayank-agarwal-smashes-double-ton-becomes-second-quickest-player-to-achieve-the-feat/
Meanwhile, Mayank Agarwal joined the elite list of Indian batsman outscoring opposition in each inngs. Virat Kohli in a post-match presentation said, "I don't really know what to say. Clinical performances all around. The team is playing really well. I can't say something which people are not seeing on TV. Fast bowlers are at the top of their game. It's a dream bowling combination for any skipper."
Winning three consecutive Tests by a margin of inngs & 100+ runs
Australia, 1930/31
Inn & 172 runs v WI SCG
Inn & 217 runs v WI Brisbane (EG)
Inn & 122 runs v WI MCG
Pakistan, 2001/02
Inn & 264 runs v Ban Multan
Inn & 178 runs v Ban Dhaka
Inn & 169 runs v Ban Chattogram
India, 2019/20
Inn & 137 runs v SA Pune
Inn & 202 runs v SA Ranchi
Inn & 130 runs v Ban Indore
Last six away Tests for Bangladesh
LOST by Inn & 254 runs
LOST by Inn & 219 runs
LOST by 166 runs
LOST by Inn & 52 runs
LOST by Inn & 12 runs
LOST by Inn & 130 runs
Indian batsman outscoring opposition in each inngs
Vinoo Mankad (231) v NZ (209,219) Chennai 1955/56
Rahul Dravid (270) v Pak (224,245) Rawalpindi 2003/04
Sachin Tendulkar (248) v Ban (184,202) Dhaka 2004/05
Virat Kohli (213) v SL (205,166) Nagpur 2017/18
Rohit Sharma (212) v SA (162,133) Ranchi 2019/20
Mayank Agarwal (243) v Ban (150,213) Indore 2019/20
Best figures for Shami in home Tests
5/35 vs SA Vizag 2019/10
5/47 vs WI Kolkata 2013/14 - debut
4/31 vs Ban Indore 2019/20 *
4/71 vs WI Kolkata 2013/14 - debut
Three consecutive innings wins for India
Season: 1992/93
Inn & 22 runs v Eng Chennai
Inn & 15 runs v Eng Mumbai WS
Inn & 13 runs v Zim Delhi
Season: 1993/94
Inn & 119 runs v SL Lucknow
Inn & 95 runs v SL Bengaluru
Inn & 17 runs v SL Ahmedabad
Season: 2019/20
Inn & 137 runs v SA Pune
Inn & 202 runs v SA Ranchi
Inn & 130 runs v Ban Indore
Most innings wins for an Indian captain
10 Virat Kohli *
9 MS Dhoni
8 Mohd Azharuddin
7 Sourav Ganguly
-PTC News