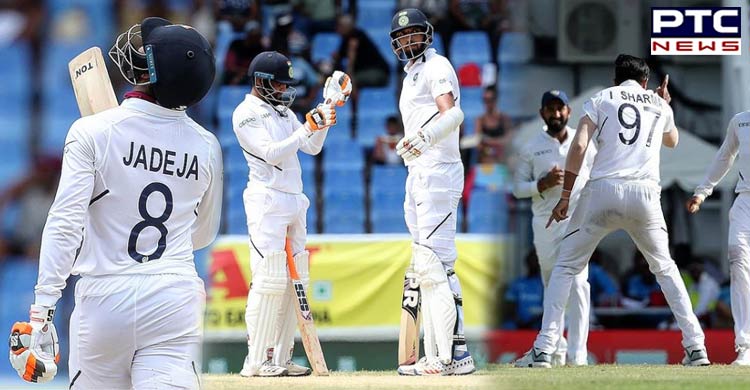 India vs West Indies 1st Test Day 2 Highlights: After getting a good score at the end of Day 1, Ravindra Jadeja scored 58 runs which led the team to a total of 297. Also, Ishant Sharma gave massive support to Jadeja, as he himself scored 19 runs off 62 balls. Ravindra Jadeja and Ishant Sharma put together 60 runs for the eighth wicket. After getting All-out, the hosts wear on the pads and get on the crease. Although West Indies opener Kraigg Brathwaite and John Campbell were looking quite comfortable against the Indian fast bowlers, M Shami got the breakthrough in the eighth over.
https://www.instagram.com/p/B1gs_3bg8Rv/
Later, in the 18th over, Ishant Sharma dismissed Kraigg Brathwaite. He gave him the full, Brathwaite tried to hit a blooming drive, Ishant Sharma picked up a blinder while he was in his followthrough. Likewise, Ishant shines after 40 overs of the game. In the 43rd over, Ishant bowled a length ball on the leg to Roston Chase. Although, the ball was in the slot to be put away and Chase decided to do the same but ended up chipping it to midwicket in the hands of KL Rahul.
https://www.instagram.com/p/B1htKskAf-c/
Then, Shai Hope was the next target. As Ishant bowled, Hope tried to play it cross and edged out in the hands of Rishabh Pant. Later in 56th over, he achieved his 9th 5-wicket haul in Test cricket. In his over, he dismissed Shimron Hetmyer on length delivery outside off, to which Hetmyer wanted to drive it off, but plunged it to the Ishant, who picked the blinder again. In the same over, he sent Kemar Roach, back to the pavilion and achieved the 5-wicket haul.
India vs West Indies 1st Test Day 2 Highlights:
Well, surely Ravindra Jadeja and Ishant Sharma were the stars of the Day 2. Now, it will be Day 3, where West Indies are currently faltered on 189/8. WI Skipper Jason Holder along with the tail-ender Miguel Cummins are on the crease, let's see how far will they go.
-PTC News