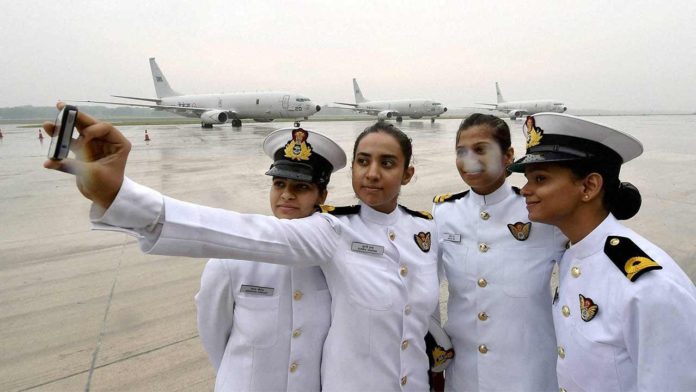 Indian Navy offers lots of opportunities for women who wish to join it
Indian Navy offers lots of opportunities in a variety of roles for women who wish to join the force, Lt Commander Pratibha Jamwal, who was part of all-women team that circumnavigated the globe on board the INSV Tarini, said at Mohali on Saturday.
Some other members of the team said several progressive and first-time initiatives have been taken by the Navy towards empowering women officers.
Lt Commander Pratibha, who is looking forward to another sailing expedition in November, said many members of the six-member crew of INSV Tarini, are currently on a mission "in which we are going around the country and sharing our experience of circumnavigation and trying to inspire people, especially women, to let them know about navy and opportunities one gets after joining the force".
Asked what needs to be done to have more women join the Navy, Jamwal said, "It is not that women don't want to join the Navy, but it is just that they are not really aware what all opportunities are available in the Navy for women."
"Women, especially in the northern part of the country, think that Navy is only about sailing and being on board a ship for six months… But there are lot of different branches which Navy offers, like for example, I am an air traffic controller.
"Then there are education officers, logistics officers, there are medical officers, there are naval constructors, technical officers, there are pilots and there are observers. Variety and scopes are many, but there is lack of awareness, specially in this region of India," Jamwal, who hails from Kullu in Himachal Pradesh, said.
Lt Cdr Jamwal and some other members of the INSV Tarini team, including Lt Commander Swathi P, Lt S Vijaya Devi and Lt Payal Gupta said on the sidelines of an event that Navy offers a host of avenues for women and a supportive environment.
"Through these visits around the country, it is our endeavour to make people aware about opportunities that are available in the Indian Navy," Swathi said.
The four members of the INSV Tarini expedition were in Indian School of Business' Mohali campus, where while speaking at an event earlier they shared their experiences about the daring voyage around the globe.
The six-member crew, on board the INSV Tarini, had spent 194 days at sea as part of a mission that began on September 10 last year.
Braving treacherous seas and displaying exemplary courage, the mission witnessed several gut-wrenching moments like when in January the INSV Tarini negotiated the choppy waters off the Cape Horn, off the southern tip of south America, often dubbed as 'the graveyard of ships' owing to the dangerous sea conditions in the Pacific Ocean.
The expedition was covered in five legs, with stopovers at four ports — Fremantle (Australia), Lyttleton (New Zealand), Port Stanley (Falklands), and Cape Town (South Africa).
INSV Tarini, named after Goddess Tara Tarini, is a 55-ft sailing vessel, which has been built indigenously and inducted in the Indian Navy last year.
Lt Vijaya Devi, who hails from Manipur and Lt Cdr Jamwal said the group of six had trained for three years for the mission under the watchful eyes of Navy veteran, Capt Dilip Donde.