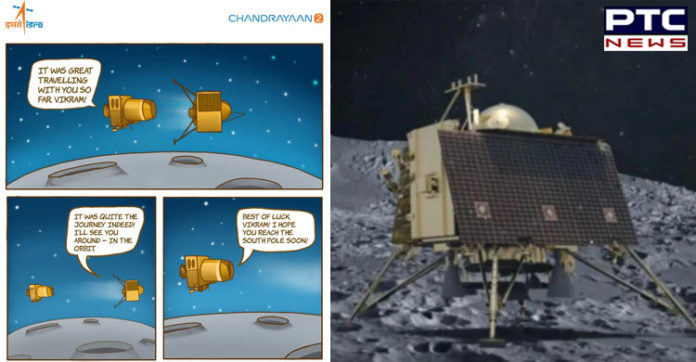 In an innovative move, ISRO updated the country about the orbiter and Vikram lander ahead of the moon landing of Chandrayaan 2 with a cartoon. In the cartoon, the orbiter wishes the lander best of luck and says they had a great ride together. The orbiter also hopes that the lander reaches the South Pole soon. The Vikram lander separated from the orbiter on September 2.
We have the same wishes for Vikram, Orbiter.
Want to stay in touch with Vikram and Pragyan as they make their way to the untouched lunar South Pole and uncover its many mysteries? Then keep an eye out for the next edition of #CY2Chronicles! pic.twitter.com/2iA8W2lxtR

— ISRO (@isro) September 6, 2019
Vikram's historic soft landing on the moon will begin in the wee hours of Saturday.  At ISRO, scientists are waiting with bated breath for history to pan out.
This mission is of the utmost significance to the country's space programme. It will put India in the elite group of nations that have achieved a soft landing on the moon, including US, Russia and China. But more than that, it will make us the only country to explore the moon's south pole.
Also Read: ISRO To Launch Three More Satellites To Boost Rural Internet
According to ISRO, Chandrayaan 2 will try to conduct the soft landing in a plain between two craters. Meanwhile, at ISRO, scientists are on the edge. ISRO chairman K Sivan described the moments leading up to the proposed soft landing as "terrifying."
They have a reason to be. This mission will open a new chapter in India's space exploration programme.
-PTC News