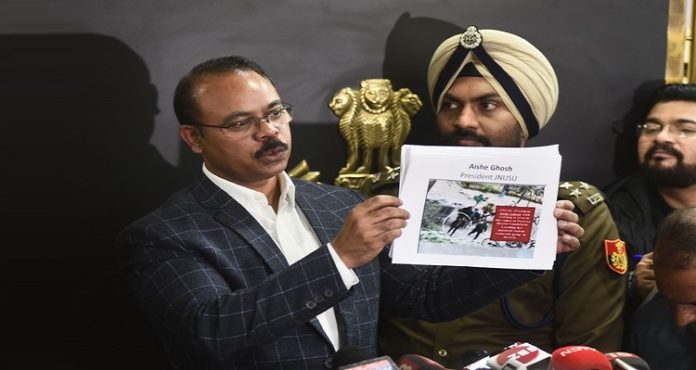 Delhi Police on Friday revealed the identity of nine suspects in JNU violence, including student union chief Aishe Ghosh. Ficve days after 35 JNU students were injured in a mob attack in JNU campus, Delhi Police came up with a lead. Among those names, seven students belong to the Left groups while two of them are affiliated to the ruling BJP's student wing ABVP, police said.
DCP, Crime Branch, Joy Tirkey released the circled photographs of the student suspects in the January 5 JNU campus violence that took place in the evening by a mob of masked armed men. While giving the information, the police did not addressed the details of the evening attack. Earlier, they had appealed the public for help regarding the information about the masked men.
Meanwhile, no arrests have been made in the case of violence in JNU. Tirkey said that Ghosh and the students affiliated to Left organisations attacked those who wanted to register for the winter semester. Police mentioned the Student Federation of India, All India Students Federation, All India Students Association and Democratic Students Federation as the groups behind the campus violence tussle.
"A large number of froups wanted to register for the winter semester from January 1 to 5 but the Left groups did not allow the students to do so. The group members attacked the university server room to stop the online registration and later enforce a strike over the protest against the fees hike," Tirkey said.
Peshawar Sikh man's murder plotted by fiancée as she didn't want to marry him, says Police
However, Ghosh rejected the charges, stating that she was victim and not a culprit. The cops said that no one has been detained and they would send notices to suspects before interrogating them.
The suspects named are Ghosh, Chunchun Kumar, Pankaj Mishra, Waskar Vijay, Sucheta Talukdar, Priya Ranjan, Dolan Sawant, Yogendra Bhardwaj and Vikas Patel. Bhardwaj and Patel belongs to the ABVP while the rest are from the Left-led groups. Ghosh stated that no union member had done anything wrong. The statement of Delhi Police were limited only to the campus scuffles and the violence by masked persons who entred the campus at around 6 pm. Delhi Police were accused of failing to prevent the attack.
Meanwhile, Delhi Police sources revealed that 37 persons have been identified by Special Investigation Team (SIT) from the 60-member WhatsApp group 'Unity Against Left'.
-PTC News