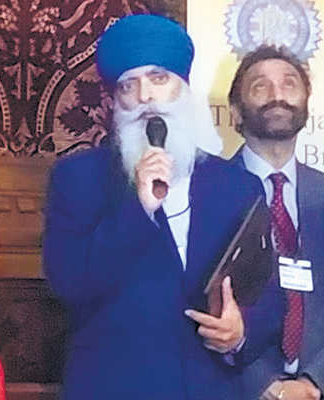 Khalsa Aid founder Ravinder Singh gets key UK award
Ravinder Singh, the founder of Khalsa Aid, was presented with 'The Award Of Excellence and Achievement In Your Chosen Vocation' by the Punjabi Society Of British Isles during a ceremony in the British Parliament.
Ravinder dedicated the award to Sikh human rights activist Jaswant Singh Khalra on the anniversary of his disappearance.
"It was the anniversary of Shaheed Jaswant Singh Khalra's disappearance. Since Jaswant Singh exposed the truth about the mysterious disappearance of as many as 25,000 Sikh youth and how they were cremated by Punjab Police in different cremation grounds, how could I not dedicate the award to him? Since it was an important ceremony, it was held at the prestigious British Parliament."
Also Read: Khalsa Aid joins relief operation in Kerala
Khalsa Aid has undertaken numerous missions in India and across the world. Its engagement in northern Iraq has been noticed worldwide. Khalsa Aid has also helped rehabilitate and rescue women from the IS. Their relief team has been supporting Yezidi and Syrian refugees in Iraq since 2014.
"People call me so many things, but all I can say is I am simply against corrupt regimes and governments. I just want people to get justice and a fair deal in the existing scenario," says the founder, who has time and again urged Punjabi celebrities from the world of entertainment to speak up against the unjust practices of society.
Also Read: Sikh volunteers from Khalsa aid clean temple and mosque
"There was a time when Punjabi singers use to beg to get signed. Now that they've become famous, they show arrogance. On the contrary, they should come forward pay back to the society. The least they can do is hold talks at colleges and universities," he adds.
-PTC News