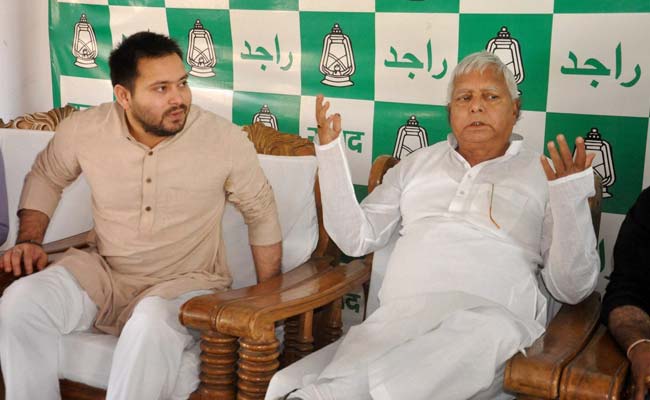 Patna: Lalu Yadav, who cannot hold public office because of corruption charges, on Sunday said that his sons who are both Bihar ministers and accused of graft, are right to "do business because I don't want them to die in poverty."
That seems unlikely. Tej Pratap and Tejashwi Yadav are two of three owners of two acres land on the outskirts of Patna, worth about 60 crores. The third owner is their mother, Rabri Devi. The land is being developed into Bihar'a biggest mall by a legislator from Lalu's party, which is a member of Nitish Kumar's coalition government
"Half of the share in the mall being built will be of the builder, while the remaining half will be that of the company," Lalu said at a press conference today. The estimated worth of the project is 500 crores.
BJP leader Sushil Kumar Modi alleged last week that the land was illegally transferred to Lalu's family as a favour. In 2008, while he was the country's Railways Minister, an entrepreneur named Harsh Kochhar was given a 15-year-lease to run two hotels for the railways in Puri and Ranchi. But before this, he sold the two-acre plot in Patna to a company owned by the wife of an MP from Lalu's party named Prem Gupta.
Over the last few years, the name of the company was revised along with changes that ended with the three directors being restricted to Lalu's wife and sons. All iterations of the holding company were registered at the same address. The current company, Lalu told reporters today, is LARA- named for him and wife Rabri Devi who has also served as Chief Minster of Bihar.
Mr Modi of the BJP said that proxy or Benami transactions allowed Lalu's sons to help themselves to a project worth hundreds of crores.
But Lalu said that the premise of the alleged scam is faulty because Mr Kochhar was given the railways hotels as the highest bidder in a transparent process. So his sale of a prime piece of a real estate to a firm linked to Lalu's party - and now owned by his sons - is not suspect, he claimed.
Mr Modi asks why Lalu's sons did not declare the land among their assets, as required of all ministers.
The same plot of land is also the subject of a government investigation ordered last week after Mr Modi said that the Patna zoo bought 44 lakhs worth of soil from the land under the influence of Tej Pratap Yadav, whose Forest Department the zoo reports to. Zoo officials have admitted that he soil was bought without seeking competitive bids for the best deal, but deny that it was bought from Tej Pratap's property.
— PTI