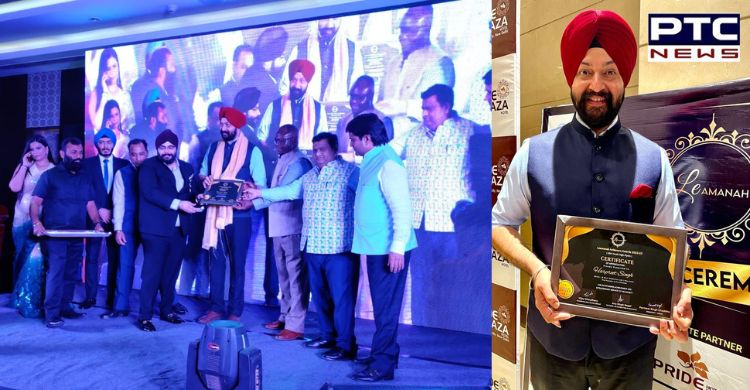 Mohali, July 27: Editor, PTC News Network, Harpreet Singh Sahni, was on Tuesday honoured with 'Sikh Youth High Flyers' title during Leamanah Achievers Awards 2022-23 held in association with the World Chamber of Sikh Commerce, New Delhi.

Leamanah Achievers Awards 2022-23 are awarded for outstanding achievement and extraordinary service to society. The awards were founded by Anu Singh Bagal.
Parmeet Singh Chaddha of WSCC was also present.
Also Read | Olympics gold medallist Neeraj Chopra ruled out of Commonwealth Games 2022
Harpreet Singh Sahni is an esteemed senior journalist and a renowned Punjab anchor, with 16 years of rich experience. Harpreet Singh Sahni first made his community as well as entire society proud by winning the title of "First Mr Singh International" in 2005.
Notwithstanding pressures and demands of "glamour world", he has managed to kept his "Sikhi Swaroop" intact, which is indeed an inspiration for several Sikh youths. He belongs to 'Royal City' Patiala. His journalistic career spans more than 16 years — where he has have done exclusive coverage on various topics pertaining to religion as well as politics.
At present, he is the Chief Editor, PTC Network, and hosts a number of programmes, including panel discussions, news anchoring and special interviews of prominent personalities. On several occasions, his impeccable debates and dialogues forced successive Punjab governments to take major decisions for the public.
Besides his journalistic career, he made special appearance as PTC News presenter in a couple of Punjabi movies such as 'Dharti' and 'Lahoriya' among others.
Also Read | Dengue larvae found at Patiala's Lady Fatima School; challan issued
He has also been honoured with various awards for his contribution to Punjabi language and to society as whole. The awards include 'Best Anchor Award for Punjabi Journalism' in 2018 by Punjabi Media Academy and 'Best Speaker Award' conferred at the World Punjabi Conference by GGSSC in 2017.
His other achievements 
1. 'First Mr Singh International' (2005) — 'Sabat Surat' Sikh model competition. Candidates were from across the world. The event was held was at Khlasa College in Amritsar, Punjab.
2. 'Sikh Achiever for the Year Award' in 2006, which was held in Mumbai.
3. Recipient of 'ENBA Award for Best Current Affairs Programme', 2020.
4. Played a brief role in the movie 'Student of the Year'.
5. Brand Ambassador of 'Simco Hair Fixer' from the last 12 years.
6. Also played role in electronic ads, Tata Safari (First Sikh model), PMC bank
7. Editor of World famous Punjabi News Channel — PTC Networks. Younger-ever editor in the Punjabi media
8. Senior anchor and famous host of talk show 'VICHAR TAQRAR'. Have also interviewed top politicians, sports personalities, social activists etc
9. Specialty in issues concerning Sikh such as 1984 Riots, Sikhs on black list and many more
10 'Punjabi Bhasha Award' in 2016 by Punjabi promotion council
11 'Anchor of the Year Award' in 2018 by Punjabi Media Academy
12. General Secretary of Young Progressive Sikh forum
-PTC News