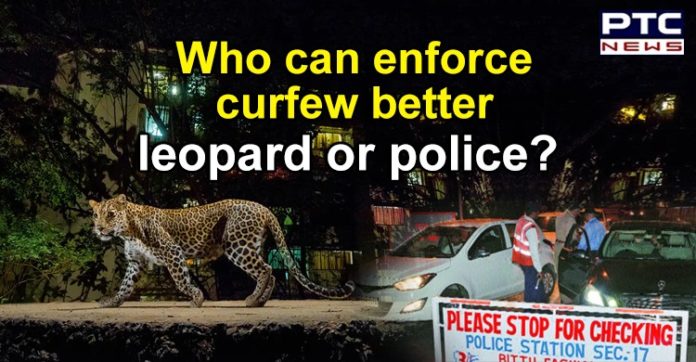 Amid lockdown, announced by Prime Minister Narendra Modi as a step to prevent the spread of coronavirus, there have been repeated leopard scares in Chandigarh and the jokes about it. Meanwhile, the UT Advisor Manoj Parida took to Twitter and asked if the leopard was better at keeping the people inside their homes or the police.

In his tweet, Parida wrote: "Who can enforce curfew better, leopard or police?" Meanwhile, the city residents were quick to respond to Parida's tweet. Vindu Dara Singh replied: "It's good to see the sense of humor despite all the stress sir.👍🏼" Meanwhile, a user said that it seems UT Advisor has left the leopard on the street. One of the users said that "So is there really a leopard outside or this is an April fool prank? 😄😄."
Who can enforce curfew better ,leopard or police?☺️😊☺️😊

— Manoj Parida.IAS (@ManojPa47203819) April 1, 2020
Another user said, "Good administrators like you with good communication skills can ensure curfew better. Thanks to you sir for creating good awareness among the civilians of Chandigarh to respect the curfew. 💐💐" A user wrote: "None can stop the 4 aunties in my sector from going on their evening walk post-sunset."

To this, a user replied: "Kindly put a stamp on the hand of such people saying: Not to be entertained in any healthcare facility for the next 14 days. Hope I don't sound inhumane but such negative reinforcement is probably necessary as of now."
Also Read | Coronavirus: Hoshiarpur reports another positive case; total number of cases in Punjab 47
Meanwhile, one leopard was rescued by the forest officials from a house in Sector 5 on Monday after it went on the road in the city. Likewise, a second scare from Sector 44 on Tuesday was reported. However, no leopard presence was confirmed from Sector 44. Chandigarh tally has increased to 16 after a sector-35 resident tested positive for coronavirus on Wednesday.
-PTC News