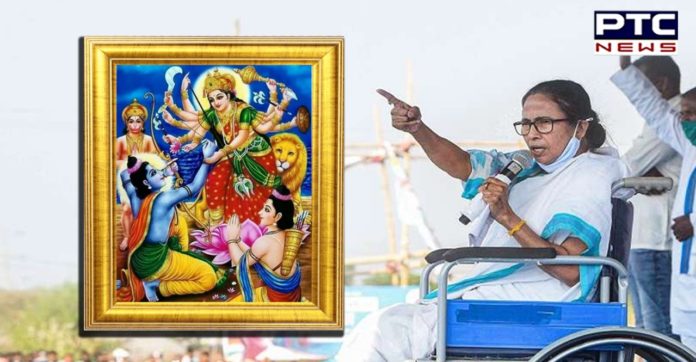 West Bengal Assembly Elections 2021: West Bengal Chief Minister Mamata Banerjee on Wednesday said that Lord Ram used to worship Maa Durga. During a rally in Jhargram, Banerjee asked people not to vote for BJP.

"Don't vote for BJP otherwise, you won't be able to follow your 'dharma'," said Mamata Banerjee during Jhargram rally.
Also Read | Has PM Narendra Modi directed all states to cancel exams?
"You will have to say 'Jai Shree Ram', you will not be able to say 'Jai Siya Ram'. Lord Ram used to worship Maa Durga because she is much bigger in stature," said Banerjee.

She further said that she was beaten up many times in her life. "Earlier the CPM used to beat me up and now the BJP has started doing the same," she said, adding that the people of CPM have now become BJP.
Also Read | Will have to take quick, decisive steps: PM Narendra Modi on second peak of coronavirus
She said that some of the traitors, greedy people have also joined the BJP. Adding, she said that Narendra Modi had promised, to vaccinate the people of Bihar after coming to power, during elections. "But did they provide vaccines? No, they did not, they lied," she added.
Meanwhile, Mamata Banerjee released Trinamool Congress' election manifesto for the upcoming West Bengal Assembly elections 2021. "We will decrease unemployment. 5 lakh job opportunities will be generated in a year," she said.
She added that "When TMC came to power our revenue was about Rs 25,000 crores, it was now over Rs 75,000 crores."
"We will Rs 1,000 to widows; special monetary allowance will be given to SCs and STs; credit card for students," she promised. "This is not a political manifesto, it is a development-oriented manifesto. This a manifesto of the people, for the people, and by the people," she said.
Click here to follow PTC News on Twitter.
-PTC News