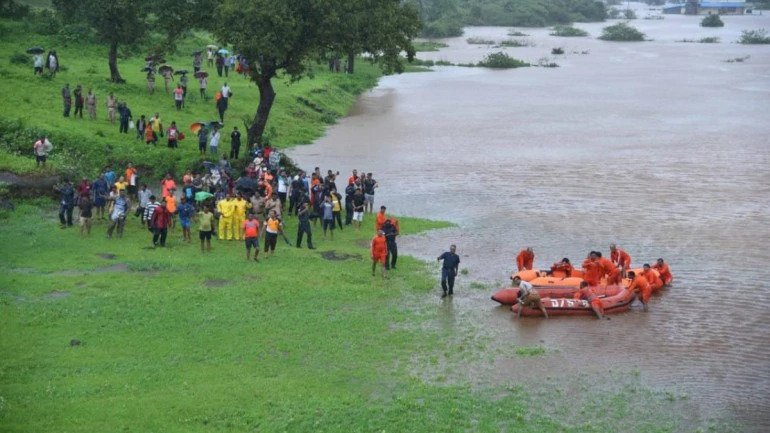 More than a thousand passengers onboard the Mahalaxmi Express who were stranded after the train stalled on flooded tracks early Saturday morning, have been rescued, a top official said.
"All the passengers were rescued safely from Mahalaxmi express. They are being provided food and medical aid. There were nine pregnant woman in the train who were safely rescued. One of them is admitted to a nearby hospital for check-up," Thane district collector Rajesh Narvekar said in a statement.
The rescue operations lasted about three hours after they began at noon.
The National Disaster Response Force (NDRF) and the Navy had launched a massive rescue operation and the first lot of 150 passengers was rescued around midday after the train had been stranded for nine hours about 90 km from Mumbai.
Two NDRF teams from Pune and two from Mumbai with 45 personnel each are involved in the rescue operations while the navy deployed eight rescue teams including flood relief teams and specialist divers. On request from the state government, defence forces also sent two helicopters to the spot.
The train had departed from Mumbai around 8:15 pm on Friday before it got stuck in flood water at 3 am. In the morning Railway Protection Force, local police and other teams reached the train and distributed biscuits and water to the stranded passengers.
Several suburban local local and few outstation trains were stranded between Kalyan and Vanagani stations since last night, due to flooded tracks after heavy rain lashed neighbouring Thane and Raigad districts.
Train services between Kalyan and Karjat have been suspended. Central Railway claimed that the tracks at Vanagani flooded due to overflow of Ulhas River which forced the diversion of train movement via Karjat-Panvel-Diva route.
Flight operations fared better. Normal flight operations resumed in Mumbai Saturday morning after torrential rain forced the diversion of 17 inbound flights on Friday evening even as the Met office predicted heavy rain over the weekend.
By 7:42 am, seven aircraft had taken off from the Mumbai airport. They include five IndiGo, one Air India and one Emirates aircraft.
The rain had also forced the cancellations of seven outbound flights and four incoming planes while eight flights were asked to circle and nine were diverted past midnight.
Friday's rain left several arterial roads in the city waterlogged that sparked traffic jams and threw life India's financial capital out of gear.