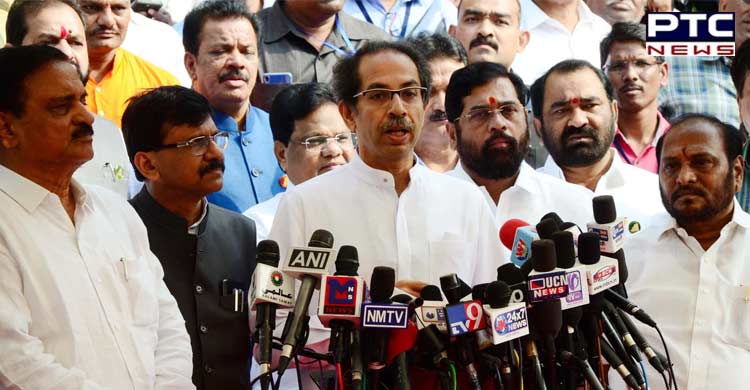 Mumbai, June 22: As the future of the Maha Vikas Aghadi government appears to be uncertain, Maharashtra Chief Minister Uddhav Thackeray chaired a Cabinet meeting on Wednesday.

Uddhav Thackeray, who tested positive for Covid on Wednesday, joined the meeting via video conferencing. State Cabinet minister Aslam Shaikh said only the Cabinet agenda was discussed at the meeting and not the current political scenario. "Only Cabinet agenda was discussed. No discussion on the present political situation took place at the meeting. Subhash Desai and Shankar Rao Gadakh were physically present. Chief Minister Thackeray, Aditya Thackeray, Anil Parab and several others joined the meeting in virtual mode," said Aslam Shaikh.
Also Read | G7 summit: PM Modi to visit Germany on June 26-27; will also travel to UAE
"No difficulties, everything will be alright. The government will continue," Maharashtra Minister and Congress leader Balasaheb Thorat said when asked about Maharashtra political crisis and whether the government will continue for five years. "No. No discussion is needed," he said on being asked whether political crisis was discussed at the Cabinet meeting.
Earlier on Wednesday, a meeting of the Congress Legislature Party was held in Mumbai at the residence of Congress Legislative Party (CLP) leader and Maharashtra Cabinet Minister Balasaheb Thorat. All India Congress Committees (AICC) observer Kamal Nath was also present at the meeting.
Following the meeting, Kamal Nath said, "At least 41 out of 44 MLAs attended the meeting here while three are on the way. The politics BJP has started is of money and muscle power. It is against the Constitution. I have seen this a lot. Unity will prevail in the Shiv Sena under Udhhav Thackeray. I have talked to Chief Minister Uddhav Thackeray and he said that as of now there is no proposal to dissolve the Maharashtra Assembly."
He also informed that Chief Minister Udhhav Thackeray tested Covid positive. Earlier in teh day, Maharashtra Governor Bhagat Singh Koshyari also tested positive for Covid-19.
Earlier, Shiv Sena leader Sanjay Raut hinted at the dissolution of the State Legislative Assembly. "The ongoing political crisis in Maharashtra is heading to the dissolution of Vidhan Sabha," said Raut in a Twitter post.
Back-to-back meetings of Shiv Sena, Congress and Nationalist Congress Party (NCP) are taking place in Mumbai over the rapidly changing political developments in the state.
Maharashtra minister and NCP leader Chhagan Bhujbal, however, ruled out midterm polls in the state.
Also Read | Centre approves setting up 'BRO Cafes' for tourists across 12 states, UTs
The developments came up after suspected cross-voting in Maharashtra Legislative Council (MLC) elections in which the BJP bagged five seats, in a major blow to the MVA alliance government. The NCP and the Shiv Sena won two each while the Congress was able to clinch one seat out of the total 10 seats in the Legislative Council that went to the polls on Monday.
-PTC News