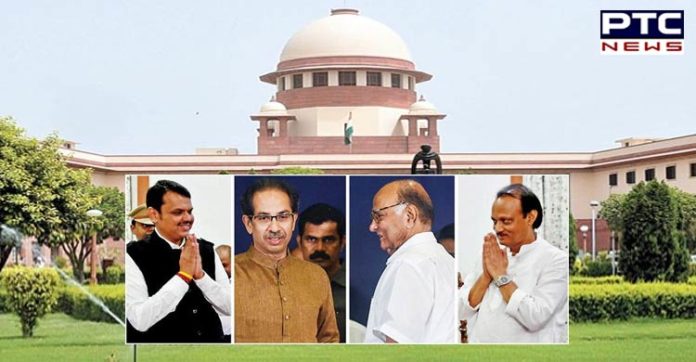 Maharashtra Politics: The Supreme Court on Monday reserved its order for tomorrow at 10:30 am on NCP-Congress-Shiv Sena petition against the formation of BJP-led government in Maharashtra. Solicitor General Tushar Mehta told Supreme Court that "I have the original documents with me." "Shiv Sena has 56, NCP 54, INC 44 seats. There was talk about horse trading but Governor possibly felt that entire stable is stolen. I'm seeking time to file reply as there are questions which need to be discussed," he added.
Adding, he said "Maharashtra Governor received a letter of support from 54 NCP MLAs from Ajit Pawar on November 22. The letter states that he (Ajit Pawar) is the head of NCP legislative party and has signatures of 54 NCP MLAs supporting him." Meanwhile, Solicitor General Tushar Mehta handed over the original letter of Maharashtra Governor inviting BJP leader Devendra Fadnavis to form government in Maharashtra to Supreme Court.
Tushar Mehta for Governor said, "Ajit Pawar's November 22 letter to Governor reads that he needs a stable government and President rule can't go on indefinitely; letter says BJP had earlier asked Ajit Pawar to join it to form government but at that time he had declined due to insufficient support from NCP MLAs."
While informing the current scenario to the apex court, Tushar Mehta said "Governor has invited the majority alliance in the House to form government. Devendra Fadnavis staked claim following the letter of Ajit Pawar along with letters of support of 11 independent and other MLAs."
"The Governor then wrote to the President and requested for revocation of the President's Rule; Governor in his wisdom invited leader of the largest party. Devendra Fadnavis has support of 170 MLAs," he added. Meanwhile, Tushar Mehta asked for a time from the top court. He said, "Grant us 2-3 days' time and let us file a reply. The Governor has in absolute discretion in inviting the largest party on November 23."
Meanwhile, Justice Sanjiv Khanna said, "While citing the past judgement of the court in similar cases, floor test was done in 24 hours in most of the cases, in some – 48 hours."
Appearing for Maharashtra government, Mukul Rohatgi said, "I will file affidavit on the plea. There is no need for interim order in the case." Kapil Sibal, appearing for Shiv Sena asked: "What was the national emergency that President rule was revoked at 5.17 am and swearing in was at 8 am? President rule was revoked at 5.17 am that means everything happened before 5.17 am."
Kapil Sibal said, "Floor test should be conducted in 24 hrs. Senior member of House should conduct it with videography and single ballot. It is in cover of night that for some, new opportunities come knocking, let floor test be conducted in full light."
Also, Abhishek Manu Singhvi representing NCP and Congress said, "When both the groups are open for Floor Test, why should there be a delay? Does a single NCP MLA here say we will join the BJP alliance? Is there a single covering letter saying this. This was the fraud committed on democracy."
Congress-NCP-Shiv Sena will form government in Maharashtra: Sharad Pawar
Adding, he said "What BJP alliance has shown to Court are signatures of 54 NCP MLAs electing Ajit Pawar as legislative party leader. They have not signed support for joining BJP alliance to form govt. NCP support to Ajit Pawar was without any covering letter. How can Governor turn a blind eye to this?"
"I'm happy to lose floor test today, but they (BJP alliance) don't want floor test," he added. Also, he placed on record affidavits signed by 154 MLAs showing their support. SC refused to accept it saying it can't now expand scope of petition, to which he withdrew the affidavits.
Mukul Rohatgi told the top court that it cannot direct Maharashtra Governor to initiate the Floor Test within 24 hours. "Floor Test should not be tomorrow. Reasonable time for it is 7 days," he said. After hearing all the aspects, Supreme Court reserved its order for tomorrow 10.30 am.
-PTC News