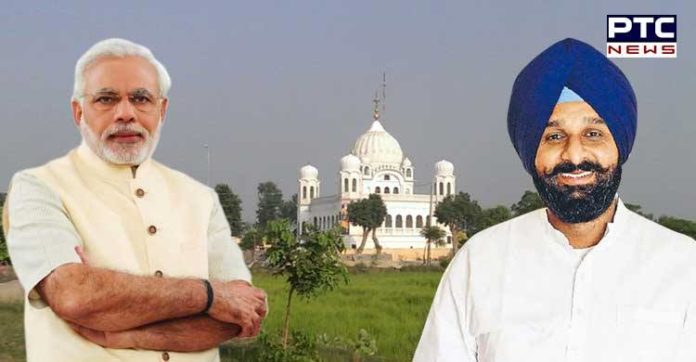 Majithia thanks PM Modi for gift to Sikh community on eve of start of 550th Avtarpurb of Sri Guru Nanak Dev ji
Former minister and senior Shiromani Akali Dal (SAD) leader Bikram Singh Majithia today thanked Prime Minister Narendra Modi for the gift to the Sikh community in the form of establishing the Kartarpur corridor along with international border with Pakistan on the eve of the start of the 550th Avtarpurb of Sri Guru Nanak Dev ji.
Also read: Sukhbir Badal thanks PM Modi for accepting 70 year old demand of Sikh community by deciding to establish the Kartarpur corridor
In a statement here, Mr Majithia said the union cabinet had by deciding to establish the corridor on Indian soil besides taking up the issue with Pakistan to complete their part of the corridor had accepted a 70 year old demand of the Sikh community. "Sikh sangat world over is overjoyed at this development as it is a fulfillment of their everyday prayer asking they be allowed 'darshan' of gurudwaras parted from them at the time of partition in 1947", he added.
Mr Majithia also thanked the Prime Minister for gifting a Centre for Inter-Faith Studies to the Guru Nanak Dev University in Amritsar. He said this would go a long way in spreading the great Guru's message of universal peace and brotherhood.
The Akali leader said it was also a matter of great honour that Sultanpur Lodhi, the town associated with Sri Guru Nanak Dev ji in India, was now being put on the world map with the union cabinet deciding to give it a heritage city status besides upgrading its railway station and other infrastructure. He said it was also remarkable that the Guru's teachings and life history would be depicted through a special theme 'Pind Baba Nanak Da".
He said it was heartening that the great Guru's message was being taken overseas by the government by establishing chairs in the name of Sri Guru Nanak Dev ji in the United Kingdom and Canada besides appropriate programmes being held by all embassies worldwide.
Also Read: Sri Guru Nanak Dev Ji Prakash Utsav: Nanakana Sahib decorated with flowers (see pictures)
Mr Majithia said The National Book Trust would also release a book on the occasion which will be printed in every language in India and it will also request UNESCO to print in all world languages. He said besides this Sikh Sangat thronging the Indo-Pak border to catch a glimpse of Sri Kartarpur Sahib would be facilitated with the installation of a high power telescope. He said besides this a commemorative coin and a postage stamp would also be released during the commemorative year.
-PTC NEWS