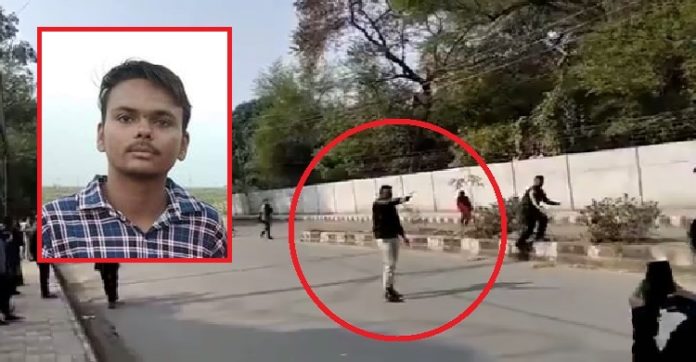 Delhi News: After Shaheen Bagh, a gunman brandishing gun opened fire near Jamia Millia Islamia injuring one student on Thursday. The injured student has been identified as Shadab Farooq, a student of Jamia Mass Communication department. Meanwhile, the boy has been taken to police custody in New Friends Colony police station.

The boy, who brandished the gun and opened fire in Jamia Millia Islamia area, has been identified as 19-year-old Rambhakt Gopal. Before commiting the crime, the boy wrote in several posts which read: "I am giving you the freedom. Please take care of my family. I am the only Hindu here. Chandan bro, this is for you. Kindly, take me in Bhagva for my last rites. Shaheen Bagh, Game Finished!"
He has been taken into custody and is being questioned. The injured, said to be a student, has been admitted to a hospital. Meanwhile the investigation is underway.
Watch it here:
#BREAKING ਦਿੱਲੀ ਦੇ ਜਾਮੀਆ 'ਚ ਨੌਜਵਾਨ ਨੇ ਕੀਤੀ ਫਾਇਰਿੰਗ

#BREAKING ਦਿੱਲੀ ਦੇ ਜਾਮੀਆ 'ਚ ਨੌਜਵਾਨ ਨੇ ਕੀਤੀ ਫਾਇਰਿੰਗ Delhi, India Narendra Modi Bharatiya Janata Party (BJP) Arvind Kejriwal #DelhiNews #DelhiLatestNews #CAANews #CAAProtest #DelhiProtest #StudentProtest #JamiaStudent #JamiaStudentProtest #JamiaLatestNews #NRCNews #CAAProtestDelhi #DelhiPolice

PTC News यांनी वर पोस्ट केले गुरुवार, ३० जानेवारी, २०२०
Earlier, a local man waved a gun at the protest area in Shaheen Bagh area, demanding the removal of protesters from the site. The man had also threatened them to leave or to face the dire consequences. If they don't move then the area will be filled with dead bodies, he had said. The attacker was identified as Mohammad Luqmaan, a local building contractor.
Coronavirus: India confirms first case, China toll reaches 170
Meanwhile, South East District (Delhi) DCP Chinmoy Biswal spoke up on Jamia Nagar firing incident. He said, "Student has sustained injuries in his left hand. He has been referred to trauma centre from Holi Family Hospital. Doctors say he is out of danger. The apprehended person (Gopal) is being questioned."
-PTC News