This tweet is the best part about Jab Harry Met Sajel!
External Affairs Minister Sushma Swaraj has close to nine million followers. Known for being active on her twitter account, this leader is amongst the most followed world leaders on Twitter.
What we like the most is, she responds to the large audience/ followers on the social networking site.
From passport sewa, or visa issues to humanitarian concerns this loved and followed leader on twitter receives the most outlandish tweet on Aug 5.
In a tweet gone viral, this man watching Shah Rukh Khan and Anushka Sharma starring film Jab Harry Met Sajal was totally fed up and had decided to seek rescue from Ms Swaraj.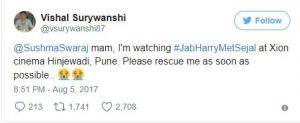 "I'm watching #JabHarryMetSejal at Xion cinema Hinjewadi, Pune. Please rescue me as soon as possible.." reads Vishal Surywanshi's tweet from August 5, tagging the minister.
In three days, Mr Surywanshi's tweet has been retweeted over 1,500 times and 'liked' over 2,400 times.
And while there has been no reply (yet) from Ms Swaraj, his tweet is going viral and people are having a good laugh alongside waiting for a reply.

We are not surprised, as the external affair minister has been asked for help often.
Last year, someone asked the minister for help with his refrigerator. In June, a person cheekily asked to be rescued from Mars.
-PTC News