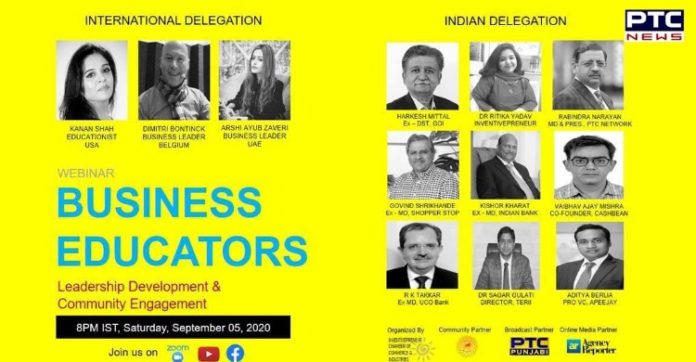 "It's the perfect time to think of a mentor that shaped you into who you are today." It's time to celebrate the Mentors!
The Unsung Warriors who were always there to uphold you. Following the series of successful virtual seminars, on September 05, 2020, Inventivepreneur Chamber of Commerce & Industries is conducting the webinar on occasion of Teachers Day. This virtual knowledge session consists of Global Business Educators and Mentors. The main objective of the Webinar is to promote Leadership Development and Community Engagement.

Rabindra Narayan, MD & President, PTC Network will be the part of the panel of the webinar and will be sharing his thoughts on the basis of experience and learning during his journey.
Other speakers of the webinar are Dimitri Bontinck from Belgium, Arshi Ayub Zaveri from UAE and Kanan Shah from USA. Indian Panelist who are participating in the webinar include Harkesh Mittal, Former DST, Government of India, Dr. Ritika Yadav, Chairperson, Inventivepreneur Chamber of Commerce and Industries, Govind Shrikhande, Ex MD, Shopper Stop, Kishor Kharat, Ex MD, Indian Bank, Vaibhav Ajay Mishra, Founder, FTEK & CASHXL, R.K Takkar, Ex MD, UCO Bank, Dr. Sagar Gulati, Director, TERII and Aditya Berlia, Co-Founder, Apeejay.
Research and surveys prove that having a mentor is important for achieving success. In a 2013 executive coaching survey, 80 percent of the CEOs said that they received some form of mentor-ship. In another research by Sage, 93 percent of startups admit that mentor-ship is instrumental for success.
Also Read | Teachers' Day being celebrated at home, PM Modi pays tribute to teachers
Your chances of success in life and in business can be amplified by having the right mentor. The valuable connections, timely advice, occasional checks, together with the spiritual and moral guidance you will gain from having a mentor will literally leapfrog you to success.
In the seminar different viewpoints will be reflected including benefits and importance of educational mentoring, power of mentor-ship, selection of right mentor for you, educational policies of different regions, challenges before remote mentor-ship etc., which all collectively makes this session one of its kind.
You can watch the complete discussion live on facebook.com/ptcpunjabi
Or
Join on Zoom https://lnkd.in/eQfab4w
-PTC News