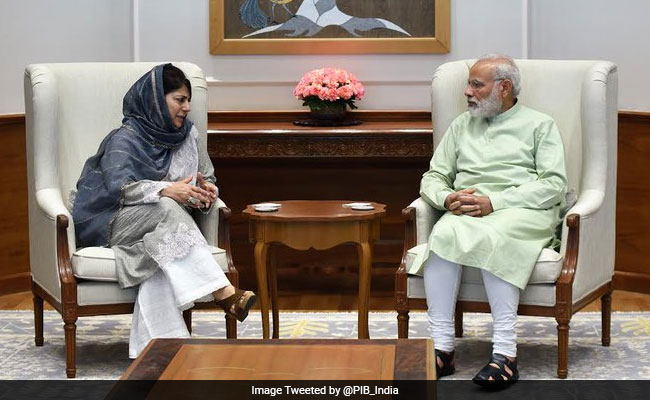 New Delhi: Jammu and Kashmir Chief Minister Mehbooba Mufti today demanded that the ruling dispensation at the Centre must follow the footsteps of former prime minister Atal Bihari Vajpayee and reach out to the disillusioned and angry youth so as to restore a peaceful atmosphere for governance.
Talking to the media after the meeting, Mehbooba said a conducive atmosphere is required for talks and governance.
"We must start from where Vajpayee ji left... Modi ji has repeatedly said that he would follow the footsteps of Vajpayee ji, whose policy was of reconciliation, not confrontation. There is no option but to talk," she asserted.
The Chief Minister also said that she discussed the recent by-poll to Srinagar Lok Sabha constituency, which witnessed large-scale violence and the lowest turnout ever.
"I discussed the issue of less voting percentage in the recent elections and security situation in Jammu and Kashmir with Prime Minister Modi," she said.
Mehbooba's PDP lost the seat in the by-poll to National Conference, just in nearly three years after the 2014 Lok Sabha elections.
The Chief Minister also discussed the huge losses to the state due to the Indus water treaty.
"I pressed that Jammu and Kashmir doesn't have control over water resources, and how losses caused by the Indus Waters Treaty can be compensated," she said, adding the Prime Minister has assured assistance in this regard.
The meeting comes in the wake of recent incidents of violence, including the clashes between security forces and civilians during the Srinagar by-elections.
Prime Minister Modi had earlier on Sunday urged all the Chief Ministers to take care of the students from Jammu and Kashmir in their respective states. His assertion came after Mehbooba raised the issue following assault of six Kashmiri students of Mewar University in Rajasthan by some locals.
The meeting assumes significance in the backdrop of several video clips surfacing in recent times, purportedly showing human rights abuses by the security forces.
The Chief Minister later called on Union Home Minister Rajnath Singh.
Meanwhile, fresh clashes were reported between police and students in Srinagar.
— ANI