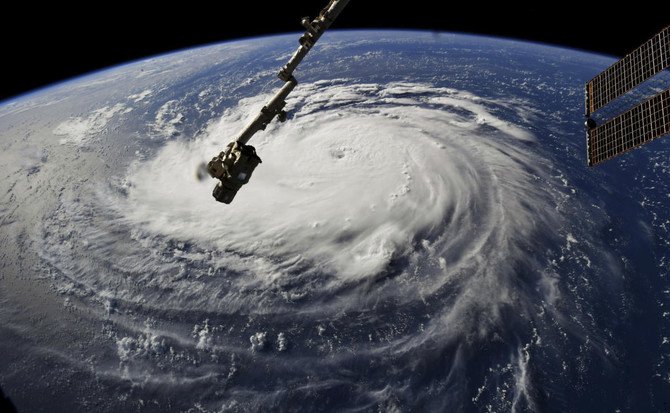 Over a million told to flee as Hurricane Florence stalks US East Coast
More than a million people were ordered Monday to evacuate the path of Hurricane Florence as the powerful Category 4 storm packing winds of 220 kilometers per hour bore down on the East Coast of the United States.
South Carolina Governor Henry McMaster told up to one million residents of the state's eastern coast to leave their homes ahead of the storm's possible arrival on Thursday.
The governor of neighbouring North Carolina ordered an evacuation of the Outer Banks, a popular tourist destination, and parts of coastal Dare County, while a state of emergency was declared in Virginia.
"This is a very dangerous hurricane," McMaster said, adding that the evacuation order for coastal counties was "mandatory, not voluntary."
"We do not want to risk one South Carolina life in this hurricane," the governor told a press conference. "We're liable to have a whole lot of flooding."
Hurricane Florence has the potential to bring catastrophic flooding to areas of the eastern United States already soaked by heavy rain and may be the strongest storm to hit the region in decades.
A Category 4 on the five-level Saffir-Simpson hurricane wind scale, Florence was 525 miles south-southeast of Bermuda and the center of the hurricane was forecast to pass between Bermuda and the Bahamas on Tuesday and Wednesday, the National Hurricane Center (NHC) said in its 5:00 pm (0230 IST) advisory.
Florence is currently moving west at around 13 miles per hour. "Florence has continued to rapidly strengthen," the NHC said. "Florence is expected to be an extremely dangerous major hurricane through Thursday."
President Donald Trump tweeted out a message to residents in the storm's path, urging them to heed the warnings of state and local officials.
Also Read: Terror Alert in Goa! Terrorists May Strike From Sea
"To the incredible citizens of North Carolina, South Carolina and the entire East Coast – the storm looks very bad!" wrote the president, who cancelled a planned rally Friday in Jackson, Mississippi, in light of the approaching storm.
"Please take all necessary precautions. We have already began mobilizing our assets to respond accordingly, and we are here for you!" – Storm surge and hurricane watches
Hurricane Katrina was a Category 3 storm when it made landfall on the Gulf Coast in August 2005 — claiming an estimated 1,833 lives.