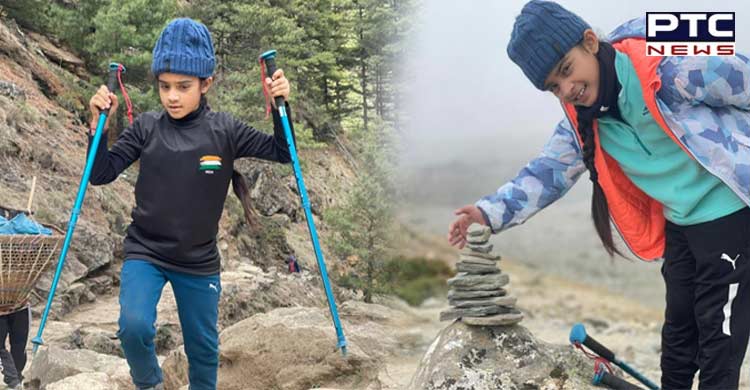 Chandigarh, June 14: Making her parents as well as the state proud, Saanvi Sood, a Class II student of Yadavindra Public School, Mohali, Punjab, has set a new national record by summiting the Everest base camp.

Saanvi Sood has now become the youngest girl in India to wave the Indian flag at the base camp of Mount Everest at a height of 5,364 metre. She achieved this feat on June 9 by scaling the summit with her father Deepak Sood.
Director-Principal of YPS Mohali TP S Waraich described Saanvi as an exceptional student.
A few days back, Rhythm Mamania (10) from Mumbai, ho is a skater, became one of the youngest Indian mountaineers to climb the Everest base camp. She completed the trek in 11 days. She was accompanied by her parents.
Also Read | Google Maps rolls out estimated toll charges for a journey
Did you know?
Mount Everest is also called Chomolungma or Sagarmatha
Although Mount Everest is the highest mountain above sea level, Hawaii's Mauna Kea is the tallest mountain base-to-peak at 10,210m (33,500 ft), but only 4,205m (13,796 ft) is above sea level.
Also Read | 5G coming soon as Cabinet clears auction proposal; will be 10 times faster than 4G
Everest's Summit is not the farthest point from the Earth Center either. The farthest point from the Earth's center is atop Mount Chimborazo(elevation 6,310 m) in Ecuador, South America.
Mount Everest is about 60 million years old. The limestone and sandstone on the summit were found to be submarine sedimentary rocks formed approximately 450 million years ago.
— PTC News with inputs from social media