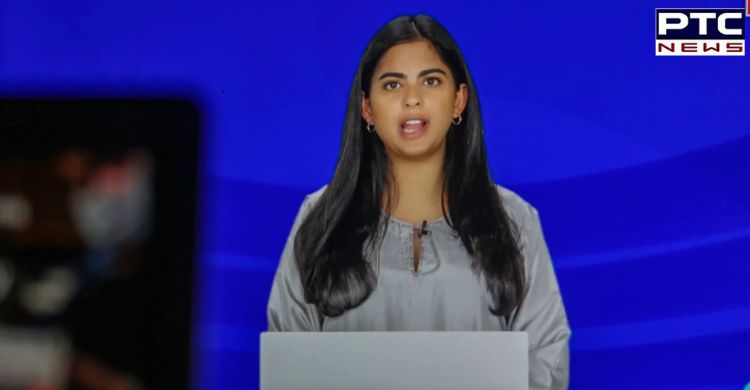 Mumbai (Maharashtra), August 29: Mukesh Ambani has introduced his daughter Isha Ambani as the "leader" of the group's retail business. This comes as Reliance's top boss Mukesh Ambani addressed the virtual Annual General Meeting (AGM) of Reliance Industries on Monday.

This comes as a strong indication that the billionaire was gradually moving vital roles inside the conglomerate to the younger generation. "At a time when a bright future is beckoning Reliance, what gives me optimism is our huge reservoir of young, dynamic and best-in-class talent. Our next-gen leaders are confidently taking over the reins across businesses," Mukesh Ambani stated.
The leading business family's younger members' paths were also indicated by the business magnate.
"Akash and Isha have assumed leadership roles in Jio and Retail respectively. They have been passionately involved in our consumer businesses since its inception. Anant has also joined our New Energy business with great zeal. In fact, he is spending most of his time in Jamnagar," Ambani informed shareholders.
Also Read | Govt plans to launch helicopter emergency medical service; to begin with AIIMS Rishikesh
He continued by saying that senior officials, such as himself and the board of directors, "mentored" all three of them every day.
Son Akash Ambani was named chairman of Reliance Jio Infocomm, the company's telecom division, earlier this year.
Isha Ambani announced during the AGM that Reliance Retail will start an FMCG (Fast Moving Consumer Goods) business this year.
"The objective of this FMCG business is to develop and deliver products that solve every Indian's daily needs with high-quality products at an affordable pricing," Isha Ambani added.
"Our digital commerce platforms continued their growth with nearly six lakh orders being delivered every day, an increase of 2.5 times over last year. JioMart, delivering in over 260 towns, was rated India's number one trusted brand for online grocery," she added.
Also Read | Punjab: HC bans all mining activities in Pathankot, Gurdaspur and nearby border areas
-PTC News