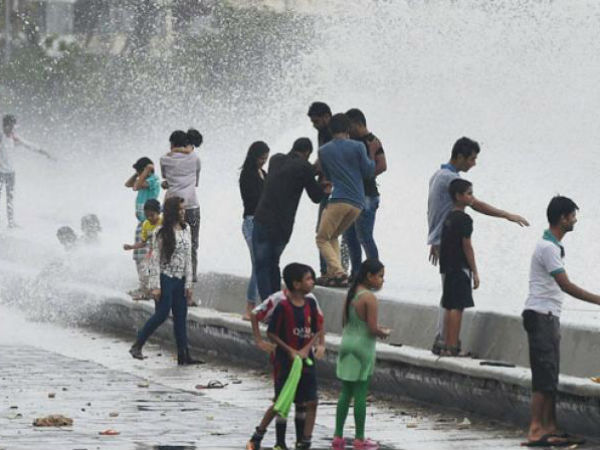 Mumbai, Dec 5- After wreaking havoc in some southern states, cyclone Ockhi on Tuesday passed the Mumbai coast and much to the relief of the people, it just brought rains and there was no damage to life or property.
Due to the impact of the cyclone, the city and its suburbs experienced rainfall since the morning, but it subsided by the afternoon. The financial capital had also experienced showers last night.
The high tide scheduled at 12.43 pm did not cause any damage. Though the cyclone has passed, there could still be intermittent rains, said an official of the disaster management cell of the Brihanmumbai Municipal Corporation (BMC).
The next high tide is scheduled at midnight, but as the cyclone has passed there is no reason to worry, he added.
According to BMC officials, there was no impact of the cyclone on the megapolis and road and rail traffic was normal.
Meanwhile, a bulletin issued by the India Meteorological Department Tuesday afternoon said the cyclone was likely to continue to move north-north eastwards, weaken gradually and cross South Gujarat and adjoining North Maharashtra coast near Surat as a deep depression by tonight.
Officials from the Maharashtra government said 2,605 boats returned to the shore or took shelter at nearby ports in the coastal Konkan region after an warning about the cyclone was issued.
Around 809 fishermen of 63 boats took shelter at Deogad port in Sindhudurg district and 1,476 fishermen and 79 boats took shelter at various ports in Ratnagiri district, officials said, adding there were no reports of any casualties.
According to them, one boat is reportedly missing.
In view of the serious weather conditions, the Maharashtra government had declared a holiday for schools and colleges in the Mumbai Metropolitan Region on Tuesday.
All the agencies like BMC, police, Coast Guard, Navy, National Disaster Response Force were kept on alert. PTI