Mumbai fire death toll: As many as 10 coronavirus patients died after a major fire broke out on Friday at a Mumbai mall hospital where COVID-19 patients were kept, a fire brigade official said on Friday.

According to the information, the fire broke out at the Sunrise hospital in Dreams Mall building, Bhandup, the official said, adding that around 70 Covid patients were rescued.
Also Read | Farmers may have to enter Delhi, breach barricades again: Rakesh Tikait on Farmers Protest
Reportedly, two Covid patients at the hospital died in the fire while some others were feared trapped. Few hours later, the Mumbai fire death toll increased to 10.

The hospital was situated on the top floor of mall building. A total of 76 patients, most of them were being treated for the novel coronavirus, were present when the fire broke out.
Also Read | Farmers' protest: Bharat Bandh today; road transport affected
20 fire engines, 15 water tankers and ambulances were rushed to the spot. Mumbai Police Commissioner on fire at Sunrise Hospital, Bhandup West, Mumbai, said that 10 people have died in the fire incident. This was a serious incident, he said, adding that a negligence of hospital management has come to light and that he will register a case.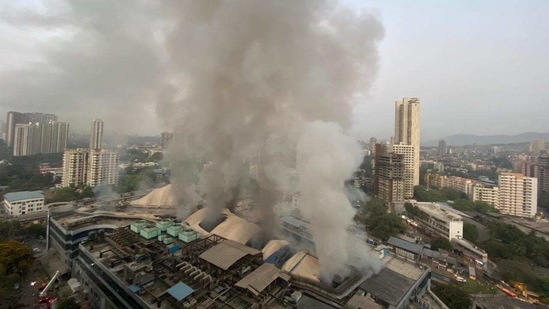 The mayor said that she had seen a hospital at a mall for the first time. Even as she said that an action would be taken if irregularities would be found.
It comes at a time hen Mumbai has been reporting an upsurge in coronavirus cases. Earlier on Thursday, Mumbai reported 5,504 new cases, the highest daily count since the pandemic started.
Click here to follow PTC News on Twitter.
-PTC News