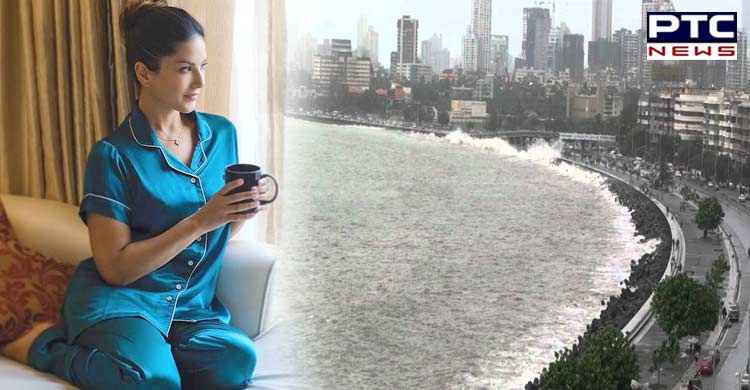 Mumbai: Since the long waited monsoon has reached the city of dreams, Mumbai, it's been trending on the social media. Besides providing relief from the scorching heat, the rains have proven to be disastrous for the city. The city is battling with heaviest rains since past 10 years. Till now Mumbai rains have taken nearly 30 lives, including the 18 that were killed today due to the wall collapse in Kurar, Malad amidst the heavy rains.
Now let us show you what B-town celebs have to say about Mumbai rain:
Sunny Leone
https://twitter.com/SunnyLeone/status/1145922550293073920
The bold beauty of Bollywood tweeted, "is it Raining?? Didn't notice ". Along with the tweet she posted a picture of herself in PJs while enjoying a hot beverage. It seems the actress is relaxing back and enjoying Mumbai showers really well.
Urmila Matondkar
https://twitter.com/OfficialUrmila/status/1145923788284006400
Veteran actor and aspiring politician who stood for Lok Sabha election in 2019 from north Mumbai, tweeted, "Disheartening to hear the news of lives lost due to Malad Wall Collapse. My thoughts and prayers go out to the loved ones of the deceased".
Armaan Malik
https://twitter.com/ArmaanMalik22/status/1145947300130447360
The soulful singer Armaan Malik slammed BMC for being irresponsible. Singer's tweet said, "It's brilliant how this city manages despite all these screw-ups by BMC year after year. All they need to do is sort out drainage systems. Is it so freakin' hard to do?? Despite all the crazy money, you get from all of us as tax. Sheesssh " hope BMC hears what Armaan Malik has said and improves.
Atul Khatri
https://twitter.com/one_by_two/status/1144503922092118016
Famous stand-up comedian and writer, expressed Mumbai rains with his wit," It just takes 30 mins of #MumbaiRains for an average Mumbaikar to go from - Oh Wow! -To- What the Hell!" his one-liner tweet was enough to tell what all the Mumbaikars are going through.
Also Read: Pune Wall collapse: At least 17 people killed in a wall collapse due to heavy rainfall
Suresh Raina
https://twitter.com/ImRaina/status/1145971017690624001
The cricketer's tweet read  "Two major cities: one is drenched, the other's parched. In times of such uncertainty, Mumbai can prepare itself by collecting rainwater for later use. It's a potent solution to the water crisis we are moving towards"
Also Read: Mumbai Rains: Man dies of electrocution, waterlogging brings the city to flood-like situation
The cricketer compared natural water crisis that two cities of India, Chennai, and Mumbai are facing. Chennai is facing parched conditions due to scarce rainfall whereas Mumbai is facing flood crisis due to heavy rainfalls. The cricketer played for Chennai super kings during IPL.
-PTC News